With the stress of the holidays behind us, it's time to relax and invest in comfortable, cozy and elevated athleisure.
Wardrobe Stylist & Fashion Insider, Stacee Michelle, is here to share 3 athleisure trends that instantly work for lounging, working from home, running or running errands.
OVERSIZED COAT
An oversized topcoat is the perfect layering option for athleisure. Whether in a classic neutral or an unexpected color, it's the ideal layering option to wear over your yoga clothes or a t-shirt and jeans. Whatever your outfit underneath, further athleisure it with a pair of sneakers.
SHADES OF GRAY
In loungewear, grey sweatpants reign supreme. When perfecting your monochrome look, don't worry about being too matchy. As long as your shades are in the same color family, you will look stylish. Pair your ensemble with white tennis shoes to keep it classic.
PUFFY VEST
The puffer vest is the ultimate cold weather layer, and retailers are selling the style in an array of colors and silhouettes this season. They work effortlessly layered over virtually everything in your closet for a relaxed, athleisure-approved look.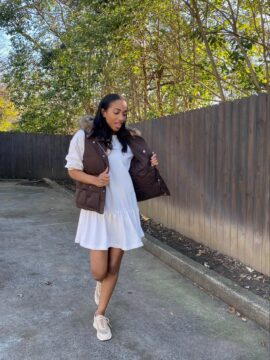 Shop all of these looks and so much more at the Styled by Stacee pop-up shop Friday, January 6 – Sunday, January 8 at GW boutique. Doors open at 10 a.m.
Stay connected on social media for more style tips from @itsStaceeMichelle and the latest Goodwill happenings @goodwillsp on Instagram!