Apply to Work at Goodwill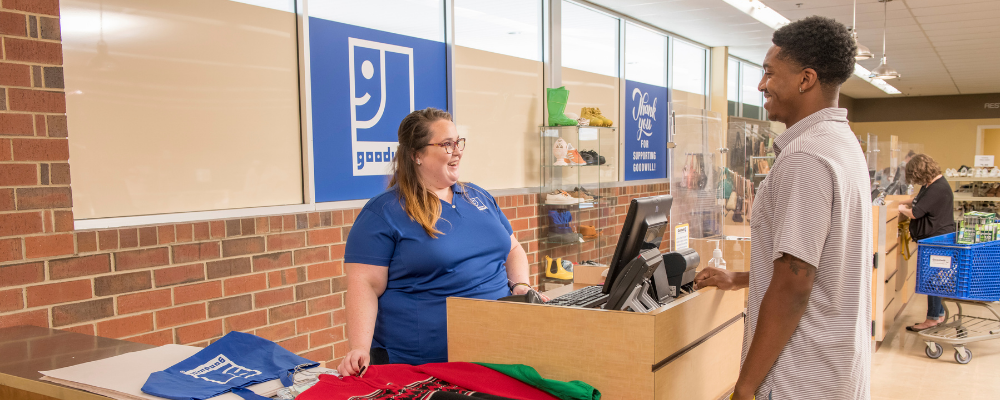 View current job openings and apply.
Imagine the Good We Could Do Together
Would you like to help create a brighter future for people in our community? Then Goodwill is the place for you! If you work for Goodwill, you'll join an amazingly diverse team that works together to build pathways that help people pursue the life they want to achieve. But the reward of working at Goodwill is more than just feeling good about our mission. As a Goodwill team member, you'll earn competitive wages and enjoy excellent benefits like health insurance, vacation and sick pay. We value teamwork and support our team members in achieving their highest level of personal and professional growth. We invite you to build your career with Goodwill!
Open Interviews Every Thursday
Get hired on the spot! Goodwill is hosting open, in-person interviews every Thursday from 1 – 4 p.m. at all of our retail stores. Simply stop by your local Goodwill, let a team member know you're there for an open interview, and someone from the management team will interview you for a job on the spot. We're hiring for a variety of management and frontline positions, and we offer competitive pay, comprehensive benefits, career advancement and purposeful work that makes a difference in our community!
Get Help With Your Application
Stop by our Charlotte Career Center on Tuesdays and Thursdays from 9 a.m. – 1 p.m. to get help applying to work at Goodwill. A Goodwill team member will direct you to our job board, help you apply for the position(s) in which you're interested and then help you complete your pre-screening interview.
Goodwill Participates In E-Verify
Federal law requires all employers to verify the identity and employment eligibility of all persons hired to work in the United States. For more information, visit E-Verify.
Goodwill Industries of the Southern Piedmont is an Equal Opportunity Employer.