What can I donate?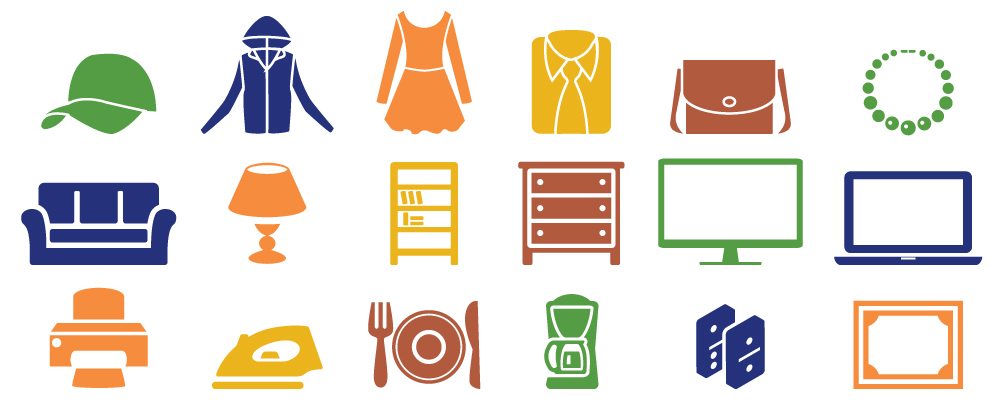 Your old jeans that are too small can do big things for others. By giving to Goodwill, you are doing much more than just funding and supporting our programs and services. You are helping someone in our community on their pathways to prosperity. As a 501(c)(3) nonprofit organization, all donations to Goodwill are tax-deductible and accompanied by a donation receipt.
Frequently Donated Items
We accept new or gently-used donations of clothing, electronics and household items at any of our 30-plus convenient retail stores or drop-off locations. Furniture donations may also be dropped off at any of our retail stores. Items that we always appreciate include:
Clothing
Shoes and fashion accessories
Collectibles and antiques
Books, music and movies
Housewares and home décor
Household textiles and bedding
Furniture
Small Appliances
Computers and related accessories
Electronic equipment
Sports equipment
Toys and video games
Flat-panel televisions (working or non-working)
Items We Cannot Accept
It's hard to say "no thank you" to a donation. However, there are some items we simply can't accept because they are excessively soiled or broken, too costly to dispose of or have been recalled due to product safety issues. Safety is very important to us, so we encourage everyone to be aware of potential product safety hazards before donating. A good rule of thumb is to ask yourself, "Would I give these items to a friend?" If the answer is no, please consider other ways of disposing of your materials.
Items Goodwill cannot accept include:
Mattresses and box springs
Bed pillows
Pianos
Hazardous, flammable or toxic materials
Children's car seats or drop-side cribs
Non-flat screen TVs
Items that have been recalled by the Consumer Product Safety Commission
If you have any questions about what may or may not be accepted, please call (704) 393-6880. To request disposal of bulky items (such as mattresses, large appliances or damaged furniture), call Solid Waste Services at (704) 336-7600.
Financial Donations
Monetary donations, bequeaths and other gifts further our mission of building pathways that help people pursue the life they want to achieve. Learn more about making a financial donation.
Vehicle Donations
Goodwill accepts cars and other vehicles, including boats and other recreational equipment, in running and non-running condition. Click here for more information.
Thank you for giving to Goodwill
We appreciate your donations, but we need your help to ensure that what you give makes it to our salesfloors. Please do not drop off donations outside of our donation sites after they have closed. Items left after hours may be stolen or damaged by weather conditions. Your careful stewardship helps us ensure maximum impact of your donations.