Second Editions (Outlet Store)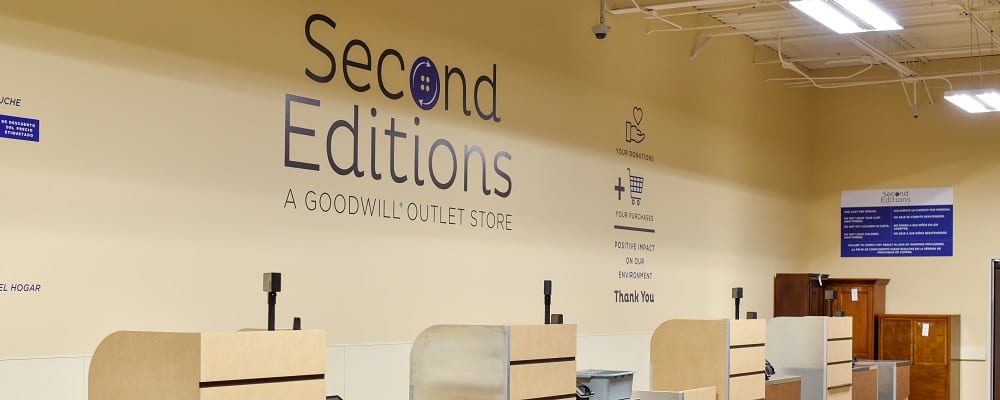 Second Editions (Goodwill Outlet)
5301 Wilkinson Boulevard
Charlotte, NC 28208
(704) 394-6017
Hours of Operation:
Monday, Wednesday – Saturday 10 a.m. – 9 p.m., Tuesday 9 a.m. – 9 p.m., Sunday 10 a.m. – 7 p.m.
Second Editions is a part of the Goodwill Opportunity Campus.
---
All Goodwill retail stores also serve as donation drop-off locations.
---
About
Second Editions: A Goodwill Outlet Store (formerly known as the Goodwill Outlet or Freedom Drive Outlet) is Goodwill's outlet store demonstrating stewardship at its highest level, ensuring that donations made to Goodwill do not go to waste. Shoppers at Second Editions have the opportunity to be environmentally responsible by reusing items and preventing them from ending up in local landfills.
Pricing
Also known as the "pound store," merchandise at Second Editions is offered at great bargains. Clothing, shoes, accessories, purses and plush toys are sold by the pound at $1.79; housewares, electronics and toys are sold by the pound at $0.79; while books and furniture are offered at 50% off the ticketed price.
How Your Purchases Do Good
When you shop at Goodwill, you're not the only one who gets a great deal. Sales from Goodwill stores fund career training courses, job search support, family stability services and more for thousands of people right here in our community each year.
Want To Join Our Team?
If you're interested in working for an organization that builds pathways that help people pursue the life they want to achieve, learn more about working for Goodwill.
Fill Out A Review
We want to make sure that we're providing the best experience possible and in order to do that, we need your help! By filling out the survey below, this allows us to gather as much store feedback as possible and improve our services if need be.
The personal information you provide while filling out this form will remain private, will not be shared or sold, and we promise to never spam you.