Goodwill Opportunity Campus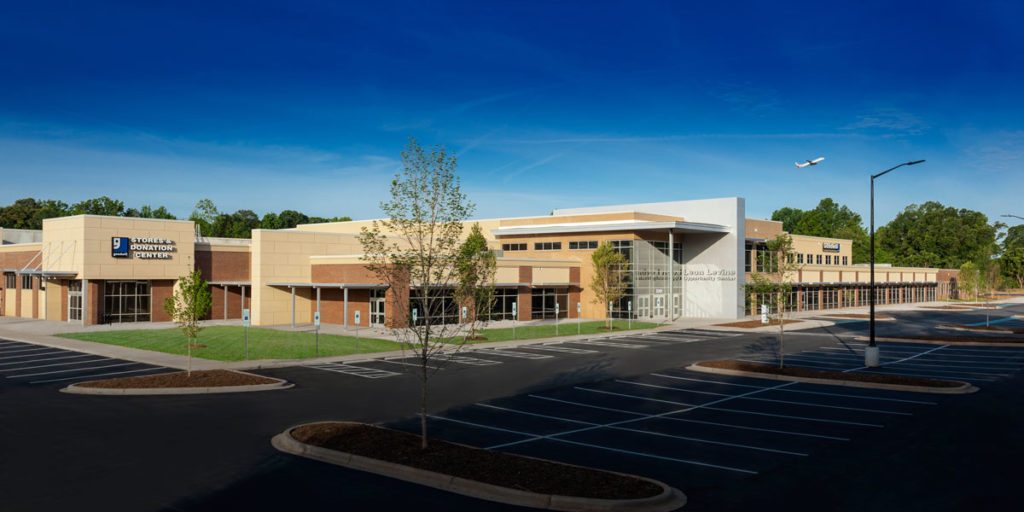 5301 Wilkinson Boulevard
Charlotte, NC 28208
At this location (click to view):
GW | Clothing & Home Décor Boutique
---
In 2015, Goodwill announced plans to change the trajectory of poverty in our region by building the Goodwill Opportunity Campus, a state-of-the-art facility in west Charlotte that provides the area's most comprehensive collection of resources and opportunities for individuals facing multiple barriers to employment. The Goodwill Opportunity Campus benefits job seekers by offering a central location for coordinated services and helps Goodwill increase long-term support for clients in their journey to earn a family-sustaining wage.
The Leon Levine Foundation—along with many other generous corporations and individuals—helped launch the project's capital campaign with a $1.2 million challenge grant. With support from the community, the 18-acre campus opened for services on June 30, 2016.
The 160,000-square-foot Leon Levine Opportunity Center, the flagship building of the campus, offers enhanced space to serve clients and improve operational efficiency not possible in Goodwill's previous facility. These improvements include space for strategic partners to provide client services related to food and nutrition, healthcare, finance, education, and legal services; private interview rooms; and more. Increased space in classrooms, computer labs and conference rooms enhances basic services and continuing education.
New community-based partners such as Charlotte Metro Credit Union, Charlotte Community Health Clinic, Common Wealth Charlotte and the Center for Community Transitions share permanent space on the campus to enhance the client experience. Working collaboratively with these organizations under one roof enables Goodwill to provide convenient access to services that positively influence clients' economic mobility.
While workforce development initiatives in our community have grown dramatically since the recession, much of the work has focused on simply getting people jobs. True economic sustainability requires a broader focus. As we continue to shape our key priorities for the future, we recognize we must also continually widen and build perspective—taking a landscape view, collaborating more broadly, and employing a holistic approach to serving our clients.
To view PBS Charlotte's segment about the Goodwill Opportunity Campus, please click here. To view Goodwill's video about the Goodwill Opportunity Campus, please click here.
Learn more about how the Goodwill Opportunity Campus impacts employment in our community.