Everything Computers & Technology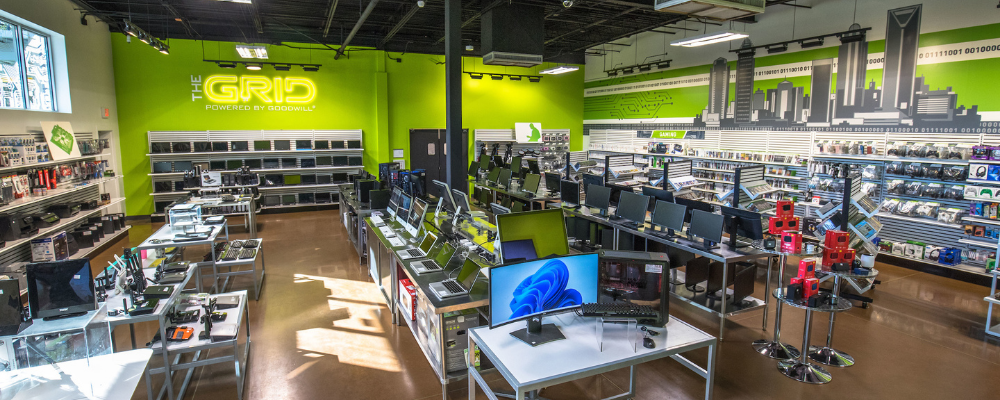 The GRID: Powered by Goodwill
5301 Wilkinson Boulevard
Charlotte, NC 28208
(704) 916-1655
View map
Additional Locations:
Also located inside the Shelby and Rockingham retail stores
Hours of Operation:
Monday, Wednesday – Saturday 10 a.m. – 9 p.m., Tuesday 9 a.m. – 9 p.m., Sunday 12 – 7 p.m.
---
At The GRID: Powered by Goodwill, you'll find just about anything you can imagine that relates to computers and technology—at Goodwill prices! Our technology store carries an unbeatable selection of new, refurbished and donated products, including desktop and laptop computers, printers, televisions, audio equipment, retro games, gaming consoles and more.
Browse a range of Internet-ready computer systems or purchase those hard-to-find individual components—all at discounted prices that reflect a 15%-65% savings from retail markups. Whether you're looking to upgrade your television or find that retro video game that you spent hours playing as a kid, The GRID has it all for you to experience. Interested in donating your old electronics? Learn more about our electronics recycling efforts.
When you shop at The GRID, you're not the only one who gets a great deal. Sales from Goodwill stores fund career training courses, job search support, family stability services and more for thousands of people right here in our community each year. 
Complete Systems
Discover an array of refurbished computers in sleek designs that deliver the same fast performance as new computers, but at more affordable prices. Shop and compare refurbished desktop and laptop computers (including PC and Apple) by features like operating system, hard drive size, memory and more.
Video Games
The GRID carries a long list of retro games from Odyssey, Coleco and classic Nintendo to Xbox, Playstation and GameCube, plus complete game systems and components. Our stock changes daily, so stop by often to check out our selection.
Parts, Accessories, and Peripherals
We carry a wide selection of hard-to-find internal and external parts including cards, cables, adapters and input devices, accessories such as keyboards, mice and surge protectors, and other peripherals such as printers, speakers, monitors, memory and hard drives.
Fill Out A Review
We want to make sure that we're providing the best experience possible and in order to do that, we need your help! By filling out the survey below, this allows us to gather as much store feedback as possible and improve our services if need be.
The personal information you provide while filling out this form will remain private, will not be shared or sold, and we promise to never spam you.