Fall is the perfect season for layers, comfort and style, so why not shop sustainably and thrift your wardrobe? Wardrobe stylist and fashion insider Stacee Michelle shopped the GW boutique in South End and found four stylish ways to style one dress for the fall season – proving that you don't need an overflowing wardrobe to stay fashionable. By styling one dress in multiple ways, you're extending the life of your garment, making it an eco-friendly and budget-friendly choice.
Here are a few of Stacee's tips for layering pieces to get the most out of your fall wardrobe:
Look 1: Oversized Trench Coat with Scarf and Suede Booties
The trench coat and scarf combination exudes sophistication and warmth. The scarf adds an extra layer of coziness, and the suede booties bring a touch of elegance. This look is perfect for those chilly autumn evenings when you want to make a statement while staying cozy.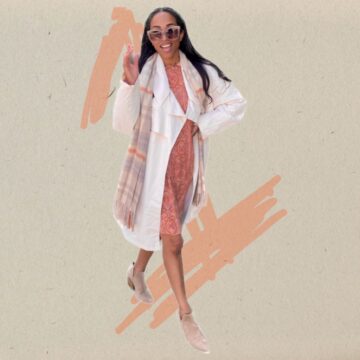 Look 2: Brown Blazer and Print Mix with Brown Animal Print Booties
A brown blazer adds structure to the dress, while the print mix adds excitement. The brown animal print booties tie it all together, offering a chic and bold ensemble that's suitable for both work and play.
Look 3: Sweater Vest, Shearling Combat Boots, and Fedora
Layering a sweater vest over the dress, adding shearling combat boots and a tan fedora create the perfect blend of contemporary vintage style, ideal for a day of exploring fall markets or enjoying a warm drink at a coffee shop.
Look 4: Fur Vest and Brown Riding Boots
Draping a fur vest over the dress instantly elevates the look. Paired with brown riding boots, this look is perfect for weekend outings, apple picking, or strolling through pumpkin patches. It effortlessly combines comfort with a touch of lux.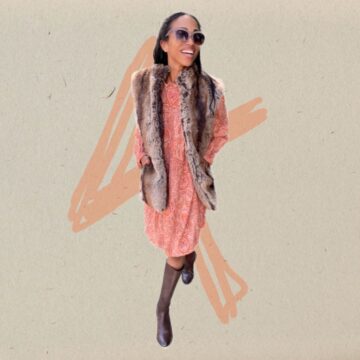 GET THE LOOK!
Shop these four looks and SO many more fall styles at the quarterly Styled by Stacee pop-up shop Friday, October 6 – Sunday, October 8 at GW boutique. Doors open at 10 a.m.
Stay connected on social media for more style tips from @itsStaceeMichelle and the latest Goodwill happenings @goodwillsp on Instagram!