Dreaming of ways to escape the cramped feeling of your pocket-sized living space? Dealing with a dark family room? Is your tiny bedroom being eaten alive by your oversized bed? Relax. You can make the most of your compact quarters by following these creative ways to redesign your rooms.
Cool Colors
When choosing a shade to paint your room, opt for a lighter color. Dark colors tend to make an already small space feel even smaller. Choosing a bright color makes a room feel more open.
Putting Together the Pieces
Furnish your room with items that are in line, proportionally speaking, with your living space and avoid extremes. Large pieces can overpower an area, but too-small furnishings can clutter it. For example, a full size bed is a better option for a small room than a queen size. From coffee tables to armoires, there are several options to consider to when searching for pieces to fill and balance your rooms. Visit your local Goodwill retail store to check the hidden gems they have waiting for you!
Choose a few large accent pieces instead of many small items. Look for pieces with large, bold patterns. Smaller patterns can appear too busy and detract from the room's overall look and feel.
Rearrange your room so that there is space between your furniture and the wall.  The space between the furniture and walls gives the appearance that there is more space in a room.
Everything is Illuminated
Provide an ample amount of light in a small room. A well-lit room can do wonders in helping to open up an area. Whether coming from a lamp or natural sunlight, various sources of light create a pleasant effect. To save space, consider mounting sconces on your walls. Any amount of space that you can save will benefit you in the long run.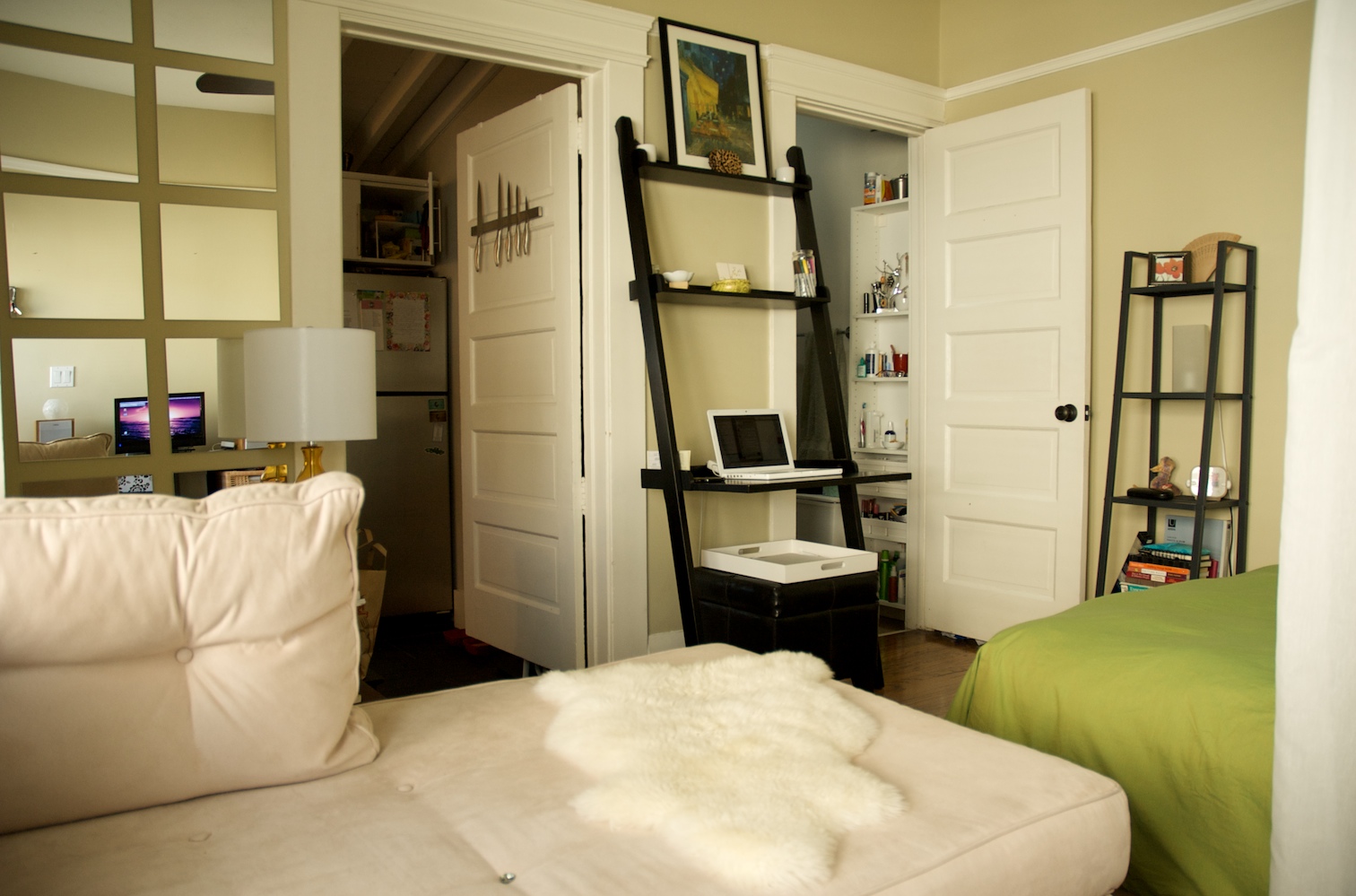 Up and Out
The space offered by empty walls can be beneficial for both decoration and storage. Adding a shelf to your walls creates a convenient place to display any special keepsake items for which there would otherwise be no space. Best of all, it's an inexpensive, easy and fun DIY project!
Mirrors are helpful in creating an optical illusion to virtually enlarge a small space. When a window is present in a room, it can also work hand-in-hand with a mirror to add a spacious feel to any room.
Following these tips when updating rooms in your home will serve as a great inspiration to create space in tight areas. It may surprise you to see how much these small adjustments can change the look and feel of a room. And remember, when moving into your smaller "home sweet home," make sure that all the stuff that didn't make the move is given a second life by donating them to your local Goodwill.
Jennifer Parker is a handy woman to have around the house. She manages a home improvement blog in the living, design, and decor niches and also writes for HomeAdvisor and Floor and Decor. Jennifer's work can be found on various interior design and remodeling blogs around the web.