If you're looking to update your home décor, there's no need to purchase something brand new. Whether you want to dress up a dresser or add something extra to an end table, many previously loved items can be given a new life and turned into something that's brand new to you.
When thrifting at your local Goodwill store, antiques market or even on the side of the road, remember that many worn-out pieces of furniture can be transformed into standout home décor with a little elbow grease and TLC—along with some refurbishing know-how. Here are a few ideas to get you started on trash-to-treasure DIY projects.
Dressed for Success
Few things are as stylish and sophisticated as a piece of furniture painted in a sleek black. This is true whether you're upcycling a dresser, end table, bookcase or computer desk. To copy this chic, modern look, keep these tips in mind:
For especially old items, sanding is not recommended because the furniture may contain toxic lead or other harmful chemicals in the paint. Instead, apply a coat of primer before painting.
If you want to avoid streaks that can result from using a standard paint brush, use a foam or synthetic fiber roller.
Always allow adequate time for the coats to dry before applying the next layer and before reassembling your drawers or shelves!
Take it Outside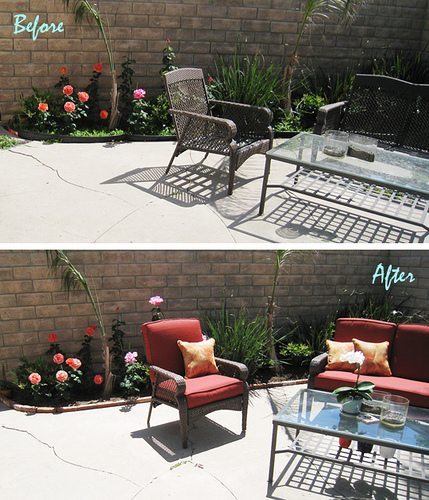 If you prefer an outdoor project this summer, here's one for updating tired patio furniture on a dime.
A fresh coat of paint and stylish seat cushions can transform outdated chairs and loveseats into showpieces.
Add a splash of color by purchasing bright cushions in weather-resistant material or make them yourself.
With the addition of a coffee table and end table, you truly have an outdoor retreat that is hard to resist!
What home furniture refurbishing projects do you plan to take on this fall?
Chris Long is a Home Depot store associate in the Chicago area, where he has been helping customers since 2000. Chris is also a contributor to Home Depot's Home Decorators.com website. His interests range from providing advice on end tables to other pieces of household furniture.