You don't want to miss Goodwill's third annual, one-day-only Bridal Pop-Up Sale! Goodwill will be selling hundreds of designer gowns – many with the original tags still on them – at drastically reduced prices.
Whether you've been thinking about your dream dress since you were a teenager or you just started thinking about it today, your wedding gown is the centerpiece of your special day and should be a reflection of your personality and style. The whole process of shopping for a wedding dress can be overwhelming, so we consulted with wardrobe stylist and fashion insider Stacee Michelle to share key tips on how to find the perfect gown.
STYLE
Before you begin to shop, it's helpful to determine the dress style that attracts you. Pulling together an inspiration board on Pinterest, Instagram or a separate document will help narrow your search and focus your shopping decisions. Knowing the style direction will help you determine if you like clean and modern styles, bohemian and lacey looks, or heavily embellished and voluminous details. Find some commonalities in the items you admire and bring examples while shopping.  
SILHOUETTE
Once you establish the style you're interested in, focus on shopping for gowns that fit that trend category. The ideal silhouette should flatter your physique, so be sure to try on several styles to determine if you prefer princess, fit-and-flare or an empire waist silhouette best. Bridal sizing is roughly two sizes higher than normal, so don't be discouraged by the number on the tag. Every gown will likely need alterations, so you'll be able to customize the look to fit you just right.
SEASON
The last thing you want is for your dress to clash with the theme of the wedding. Keeping the season in mind will help avoid disappointment on the wedding day. If you're marrying during the warmer months, consider wearing a dress in a light, airy fabric or lace pattern. Weddings during the fall and winter months are perfect for wearing thicker bodices and longer sleeves.
By keeping these tips in mind, you can go shopping for a wedding dress with a clear vision of how you want to look on your big day.
BRIDAL SALE
Join me for Goodwill's Bridal Pop-up Sale on Saturday, March 5. Doors open at 9 a.m. at the Goodwill Opportunity Campus.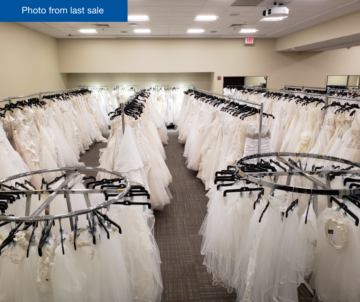 Stay connected on social media for more style tips from @itsStaceeMichelle and the latest Goodwill happenings @goodwillsp on Instagram!