Did you know that back-to-school is one of the biggest shopping events of the year?
So, to help you save money and look stylish for back-to-school and off-to-college attire, wardrobe stylist & fashion insider Stacee Michelle is here to guide us through shopping at the GW boutique.
Whether you are shopping for yourself or someone else, let the looks below be your source of style inspiration. And remember the trends are perfect for any age to try!
Here are a few style tips from Stacee Michelle for shopping this month:
LOOK 1: GRAPHIC TEE & MIDI SKIRT
The graphic tee and midi skirt ensemble continues to be a signature back-to-school outfit. It's a great way to dress up your casual t-shirt and is perfect when paired with sneakers. Remember to choose a skirt that is silky in texture or has movement.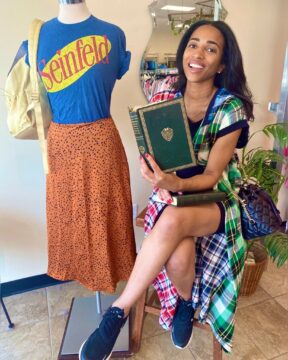 LOOK 2: PLAID SHIRT & BUTTON FRONT SKIRT
Nothing says Fall more than a plaid button-up top! To keep it weather appropriate for the sunny days in the South, try tucking it into a mini skirt. You can also select a lighter weight fabric, or, choose a colorful plaid combination to keep it bright.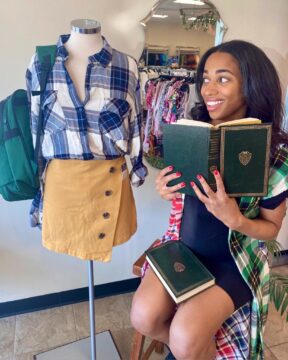 LOOK 3: CROP SWEATER & DENIM JEANS
Embrace the oversized trend, specifically the cropped sweater style. Many cropped looks are long enough to meet the top of a high-waisted pant and can be worn over a tank top for a more school-friendly look.
Shop all of these looks and so much more at the Styled by Stacee pop-up shop this Friday, August 5 – Sunday, August 7 at the GW boutique. Doors open at 10 a.m.
Stay connected on social media for more style tips from @itsStaceeMichelle and the latest Goodwill happenings @goodwillsp on Instagram!