This summer is hitting us a bit differently. Last summer, we were all figuring out what kind of warm-weather activities we could safely do with friends and family. This summer, as vaccination rates go up and COVID-19 cases go down, we're ready to soak up the sun. Wardrobe stylist and fashion insider Stacee Michelle shopped the South End location of our GW boutique and pulled hundreds of items exclusively for you! Her #StyledbyStacee collection goes live on Friday, June 4, at the boutique. Scope out the Styled by Stacee price tags to find items Stacee hand-selected just for you – all at unbeatable prices!
This month's #StyledbyStacee collection is all about summer style. Stacee wants you to keep these three style tips in mind as you gear up for the warmer days ahead.
1. Look for natural fabrics. Cotton and linen are the fabrics of the season. Not only are they seasonal, but they breathe more and will keep you cooler than synthetics!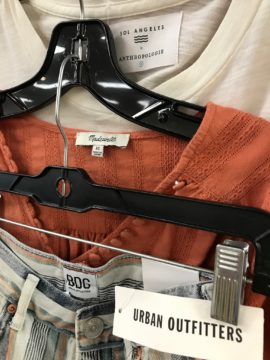 2. Embrace bright colors! "Illuminating yellow" is the Pantone color of the year. Raspberry pink, orange-y coral and ocean blue are also on trend this season.
3. Paper bag waistlines are in! Looking to jump on the high-waisted denim trend but not comfortable wearing high, tight shorts? A paper bag waist is a great way to achieve the high-rise look with a more comfortable, but still figure-flattering, silhouette. Plus it's an easy upgrade to the shorts-and-a-tee look!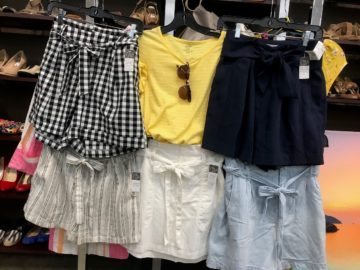 We'll be posting new blog posts each month featuring some of Stacee's finds and helpful tips to help you recreate trends! Follow us on Instagram to stay up on the latest trends and tips and find out when Stacee's pop-up collection is launching each month: @GoodwillSP & @itsstaceemichelle.
About Our Monthly #StyledbyStacee Collections:
Stacee is a wardrobe stylist and fashion insider who has been featured on E News!, FOX and BET, among others. You can find her around the Queen City and nation styling famous athletes, celebrities and artists, and now she's shopping for you — handpicking trendy items each month that will be available in a Styled by Stacee collection at Goodwill's fashion-focused GW boutique! Styled by Stacee launches the first Friday of each month – with hundreds of hand-selected styles available to shop at the South End location of GW: A Goodwill Boutique. When you shop Styled by Stacee, you're not only getting trendy items handpicked by a professional for a fraction of the price – you're also helping to fund Goodwill's mission of providing job training and employment services free of charge to anyone in our community.