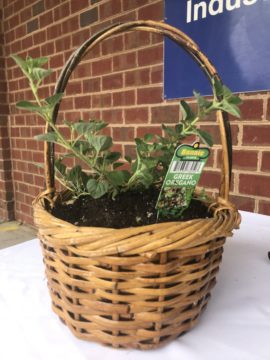 You don't need a lot of space to grow fresh vegetables at home. In fact, you can turn a basket from Goodwill into a mini raised-bed garden to conveniently harvest fresh vegetables from your yard or patio! Baskets start at $1.99, and with a few additional (and affordable) ingredients, you'll be sourcing produce from your own home in no time!
Jose Luis, COO of Goodwill Industries of the Southern Piedmont, hosted a gardening seminar at the Pineville Goodwill store to share this quick process. Click here to watch his live demonstration, or follow along below.
Supplies:
Tight weave patterned basket from Goodwill (starting at $1.99)

Weed guard (Use landscaping fabric, or even newspaper!)

Nutrient-rich potting soil

Plant of your choice

Gravel or stones (optional)
Instructions: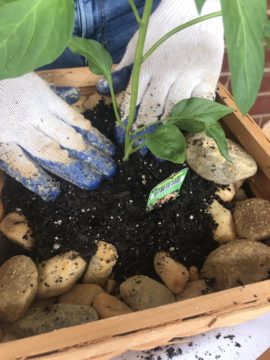 Find a basket at Goodwill with a tight weave pattern that can contain soil.

Line the bottom and sides of the basket with a weed guard or other material to help keep the potting soil in.

(Optional) Use gravel, stone or other rocks to line the bottom and sides of the basket for additional moisture retention.

Add nutrient-rich potting soil. (As an alternative, you may create your own soil by mixing 1/3 peat moss, 1/3 compost and 1/3 vermiculite or perlite.)

Make a hole in the center of the soil large enough for your plant, and place your plant in the hole. Check the plant's instructions for the appropriate depth. Some plants need to be planted level with the existing soil, while others (like tomatoes) should be planted deeper to promote additional root growth and better development.

Water thoroughly.

Place the plant somewhere you'll enjoy it – in your home, patio or garden for the appropriate amount of sunlight!

Take a photo and tag Goodwill on social media so we can share your results! We're @GoodwillSP on Facebook, Instagram and Twitter.
Don't forget to tune into our second gardening event – Growing in Goodwill Glassware! Join us in person at the Concord Goodwill store, or click here to tune in live on Facebook for a quick 15-minute session to learn to grow herbs and greens without soil!