Goodwill®, CMS, CPCC and The ROC to open the Goodwill Construction Skills Training Center in West Charlotte 
CHARLOTTE, N.C. (May 30, 2018) – In one of the nation's fastest-growing cities, there is a massive unmet need – construction companies can't find enough skilled trade professionals to fill the demand. And yet, Charlotte also struggles with economic mobility, ranking last among the 50 largest cities in the nation, according to a Harvard/UC Berkley study. 
A 2016 survey by the North Carolina Department of Commerce found more than half of construction companies in the state had hiring difficulties – more than any other industry. The number one cause reported for their hiring trouble was a lack of candidates with technical skills. Meanwhile, demand continues to grow for these positions with an expected 20 percent increase in available construction positions in North Carolina by 2024 – that's almost 37,000 jobs. Nearly half of these job openings are due to current construction employees ageing out of the workforce.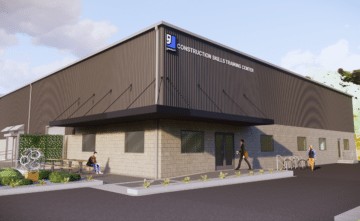 That's why four educational organizations in Charlotte have joined together to establish the Goodwill Construction Skills Training Center. Inside the facility on May 30, Goodwill Industries of the Southern Piedmont, Charlotte-Mecklenburg Schools (CMS), Central Piedmont Community College (CPCC), and The ROC (Rebuilding Opportunities in Construction), announced they will soon work together under one roof to train and certify high school students and adults for in-demand trade skills employers are desperately seeking, free of charge.  
"We recognize the skilled trades are an essential part of helping to build our growing city, and having these skills can lead to in-demand high potential careers. We also understand the path for individuals in our community to attain these skills is sometimes met with obstacles. We've come together with CPCC, CMS and The ROC to make the path to these careers possible for people in our region," said Chris Jackson, president and CEO of Goodwill Industries of the Southern Piedmont. "The programs offered at the Goodwill Construction Skills Training Center are provided at no cost to participants and lead to industry-recognized certifications that create access to opportunities for family-sustaining employment." 
The Goodwill Construction Skills Training Center is scheduled to open its doors in January 2019 in a facility that formerly served as a warehouse for Goodwill's retail operations. The existing 15,000 square foot building located directly across from Phillip O. Berry Academy of Technology at 1335 Allegheny Street will require $2.5 million for renovation, upfit and equipment. On Wednesday, the project received an initial $500,000 investment from Christ Episcopal Church to begin the project. By December 2018, it will become a state-of-the-art training facility with laboratory bays filled with industry-specific equipment, allowing for hands-on training. There will also be "smart" classroom space for additional instruction.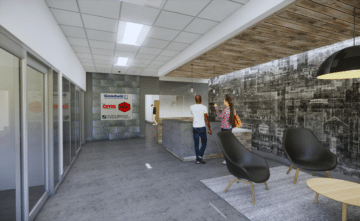 "Christ Church wanted to take a pioneer role in our community toward workforce development by providing a $500,000 lead gift. We are grateful for the opportunity to help provide a new vocational pathway that has not been available for Charlotte's high school students in over 30 years. We value the emphasis on building direct relationships with employer mentors, and appreciate the importance of paid apprenticeships to address inequities in economic mobility," said The Reverend Chip Edens, Rector of Christ Episcopal Church. 
Students will complete foundational training before selecting a specialized program of study, which may include: construction, field supervision, concrete/masonry, apartment maintenance, advanced carpentry, computer aided drafting & design, HVAC and electrical. 
High school students will complete career and technical education coursework through The ROC during the daytime hours, with adult training through Goodwill taking place in the evening. CPCC will provide all teacher instruction services via the Career & College Promise program utilizing industry-leading curriculums. Once their training programs are complete, both youth and adult students can choose to enter the workforce, apply for an apprenticeship, or transfer between 41 and 53 credit hours toward an associate's degree at CPCC depending upon their area of concentration. By 2020, the Goodwill Construction Skills Training Center will serve approximately 120 youth and 400 adults each year.  
"We are very excited about this partnership and the opportunities it will offer to our students," said Dr. Clayton Wilcox, superintendent of Charlotte-Mecklenburg Schools. "The Goodwill Construction Skills Training Center is a natural extension of the construction-related Career and Technical Education pathway offered in CMS. The new training center will allow students to gain certifications that will prepare them for good jobs." 
CMS students will have the opportunity to participate in exploration and career readiness, as well as complete paid internships in the summer before selecting a concentration. Ongoing basic needs fulfillment, career planning, resume development and job search support are embedded in the adult programs through Goodwill.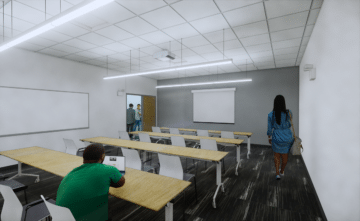 "As Mecklenburg County's community college, it's part of CPCC's mission to help increase economic mobility by ensuring students are equipped with the skills needed to enter the workforce and forge successful careers," said Dr. Kandi Deitemeyer, president of CPCC. "Through partnerships and programs such as this, we can build talent pipelines that help employers remain competitive in the marketplace, contributing to the strength of the local economy." 
The good news for future graduates, aside from being in-demand, is that a survey by the Association of General Contractors reported 60 percent of firms in the U.S. increased their base pay rates to attract and retain workers, a trend that is expected to continue. 
# # # 
Media Contacts 
Samantha Story | Public Relations & Communications Manager | Goodwill Industries of the Southern Piedmont | Office: (704) 332-0262 | Mobile: (856) 371-4802 | Email: sam.story@goodwillsp.org  
Kathy Rummage | Executive Director of Communications | Central Piedmont Community College | Office: (704) 330–6962 | Mobile: (704) 641-4862 | Email: kathy.rummage@cpcc.edu 
Renee McCoy | Executive Director of Communications | Charlotte-Mecklenburg Schools | Office: (980) 343-0954 | Email: renee.mccoy@cms.k12.nc.us  
About Goodwill Industries of the Southern Piedmont 
Goodwill has been serving individuals and families in the Southern Piedmont region of North and South Carolina for more than 50 years. Goodwill operates 24 retail stores and has more than 30 donation sites in the region. Proceeds from the sale of donated goods fund job training and employment services for individuals facing obstacles to employment such as lack of skills, experience or education, and those with criminal backgrounds. In 2017, Goodwill Industries of the Southern Piedmont provided employment services to more than 12,600 individuals thanks to donations and purchases from the community. For more information, visit www.goodwillsp.org. 
Facebook.com/GoodwillSP | Twitter & Instagram: @GoodwillSP | LinkedIn: Goodwill Industries of the Southern Piedmont

About Charlotte-Mecklenburg Schools 
Charlotte-Mecklenburg Schools (CMS) is located in the Charlotte, North Carolina region and provides academic instruction, rigor and support each school day to more than 146,000 students in kindergarten through 12th grade in 170 schools throughout the cities and towns of Mecklenburg County. CMS believes setting high standards for all students creates a greater opportunity for future success – in our communities, within the region and across our diverse and global society. Each day, CMS students are prepared to be leaders in a technologically savvy and globally competitive world. 

About Central Piedmont Community College 
Central Piedmont Community College is one of the largest community colleges in the Carolinas, offering nearly 300 degree, diploma and certification programs; customized corporate training; market-focused continuing education; and special interest classes. CPCC is academically, financially and geographically accessible to all citizens of Mecklenburg County. CPCC responds to the workforce and technology needs of local employers and job seekers through innovative educational and training strategies. Established in 1963, CPCC has provided more than 50 years of service to Mecklenburg County residents, business and industry. For more information, see www.cpcc.edu. Connect with the college on social media at www.cpcc.edu/social.

About The ROC 
The ROC (Rebuilding Opportunities in Construction) is a new innovative program whose mission is to recruit, educate and mentor high school students in Charlotte, NC for career and technical education and employment opportunities in the construction industry. The goal is to provide students valuable construction related skills, while at the same time allowing them to obtain post-secondary college credits and industry certifications. Incorporated in The ROC program are industry-paid apprenticeship and work-based learning opportunities with area construction companies. For more information, visit www.roccharlotte.org.