FOR IMMEDIATE RELEASE                  
June 6, 2019
Goodwill® to Open New Store in Fort Mill, South Carolina
The nonprofit's newest retail store and donation location opens Friday, June 7
CHARLOTTE, N.C. (June 6, 2019) – Goodwill Industries of the Southern Piedmont invites the public to the grand opening of its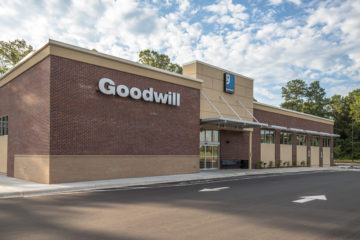 newest retail store in Fort Mill, SC on Friday, June 7.
The grand opening of this new retail store is an opportunity for the community to be among the first to experience the new Goodwill location and shop for great deals at an affordable price – all while helping their neighbors improve their lives. At 8:45 a.m., a ceremonial ribbon cutting will begin with representatives from Goodwill and the York County Regional Chamber of Commerce. Doors will open for shopping at 9 a.m.
The new 12,000-square-foot retail store, located at 2690 Highway 160 W., will have a drive-up donation drop off location. The store will provide a location for local residents to donate and shop to support Goodwill's efforts to help people get career-ready and back to work through free skills training and employment services. Regular hours for the new store are Monday – Saturday from 9 a.m. – 9 p.m. and Sunday from 10 a.m. – 7 p.m. Goodwill email subscribers who make a purchase on opening weekend will receive a 20% off a future Goodwill purchase through the month of July. Those interested in signing up for discounts and special offers like this one can do so at goodwillsp.org.
This marks the nonprofit's 26th store in the greater Charlotte region, and third store in South Carolina. The new store in Fort Mill brings 25 new jobs to the region and has an estimated economic impact of *$3 million annually, including wages and sales.
"Fort Mill is one of the fastest-growing towns in the nation, and we're thrilled to open an additional location here to make shopping and donating even more convenient for our supporters in the area," said Barbara Maida-Stolle, chief business offer at Goodwill Industries of the Southern Piedmont. "Our shoppers and donors play a vital role in driving the Goodwill mission, and we're grateful for their support throughout the region."
Since 1965, Goodwill has been helping individuals and families in the region earn new skills, discover new careers, change their circumstances and improve their lives. Thanks to donations from the community and purchases made at Goodwill stores, the organization is able to provide job training and employment services free of charge. In 2018, Goodwill Industries of the Southern Piedmont provided support to more than 11,000 people, and helped more than 2,000 people earn new jobs. Training programs are regularly enrolling and are currently focused in construction, customer service, IT and workplace skills. For more information about Goodwill and its training programs, visit goodwillsp.org.
# # #
About Goodwill Industries of the Southern Piedmont
Goodwill has been serving individuals and families in the Southern Piedmont region of North and South Carolina for more than 50 years. Goodwill operates 26 retail stores and has more than 30 donation sites in the region. Proceeds from the sale of donated goods fund job training and employment services for individuals facing obstacles to employment such as lack of skills, experience or education, and those with criminal backgrounds. In 2019, Goodwill opened the Goodwill Construction Skills Training Center, a state-of-the-art trade training facility where youth and adults gain specialized skills and credentials – free of charge – in partnership with Charlotte Mecklenburg Schools, Central Piedmont Community College and The ROC Charlotte. For more information, visit goodwillsp.org.
Facebook.com/GoodwillSP | Twitter & Instagram: @GoodwillSP | LinkedIn: Goodwill Industries of the Southern Piedmont
Media Contacts
Samantha Story | Public Relations & Communications Manager | Goodwill Industries of the Southern Piedmont | Direct: (704) 332-0262 | Email: sam.story@goodwillsp.org
Melinda Wilshire | Director, Marketing & Communications | Goodwill Industries of the Southern Piedmont | Direct: (704) 916-1616 | Cell: (443) 540-0593 | Email: melinda.wilshire@goodwillsp.org