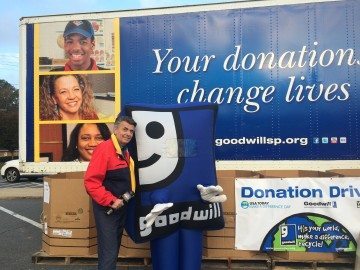 On Saturday, October 24th, WCNC-TV (NBC Charlotte) hosted "Make a Difference Day" benefiting Goodwill Industries of the Southern Piedmont. The nationwide annual initiative by USA TODAY featured a donation drive for Goodwill that at the end of the day collected 3 full tractor trailers with 12,640 pounds of donations!
Goodwill team members and on-air talent from WCNC-TV collected donations on-site from 6 a.m. – 4 p.m., including host Larry Sprinkle, Sonja Gantt, Bill McGinty, Eugene Robinson, Brad Panovich, Fred Shropshire, Beth Troutman and more.
In addition to the donation drive, WCNC-TV surprised Goodwill with a $5,000 financial contribution to support our mission of changing lives through the power of work. Thank you to WCNC-TV and the 373 donors from the community who came out to give a second life to items they no longer need and support Goodwill.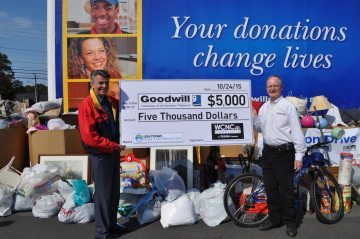 Leading up to Make a Difference Day, WCNC-TV aired six inspiring success stories of Goodwill clients and team members. Watch each video below to see the hard work and dedication put forth by these individuals on their journeys to family sustaining employment.
Thank you to WCNC-TV, Goodwill team members and community donors for making "Make a Difference Day" a huge success again this year. Purchases of these donations in Goodwill retail stores will help fund job training and employment services for individuals like Shell, Rahmal, Hyrum, Jason, Adeline and George to find jobs and earn a wage to support themselves and their families. Together, we can all make a difference!