This past Saturday, October 28, 2017, WCNC-TV (NBC Charlotte) hosted its fourth annual "Make a Difference Day" donation drive benefiting Goodwill Industries of the Southern Piedmont.
Team members from Goodwill and WCNC-TV, as well as the station's on-air anchors and reporters, collected donations on site at the Park Road Shopping Center from 6 a.m. – 2 p.m. Because of the community's generosity, we collected three and a half straight trucks full of donations, totaling more than 15,958 pounds of products we'll use to fuel our mission of changing lives through the power of work.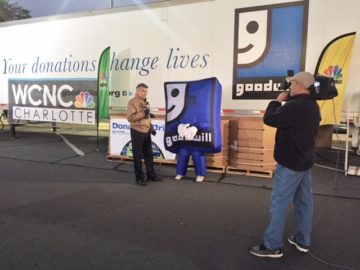 In addition to the donation drive, WCNC-TV surprised Goodwill with a $5,000 financial contribution to support our mission.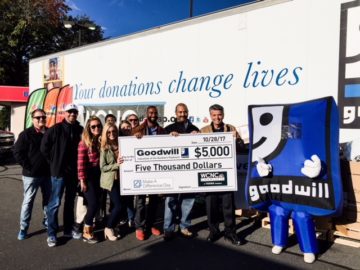 Leading up to "Make a Difference Day," WCNC-TV aired inspiring success stories of Goodwill clients, including Vernicee, who is a graduate of our Customer, Administrative and Business Services Training program as well as our Microsoft Office Specialist – Word Training program. Vernicee is now a full-time Patient Accounts Representative at Carolinas HealthCare System. To read Vernicee's full success story, click here. To watch her "Make a Difference Day" promo, click here.
We would like to extend a heartfelt thank you to WCNC-TV and the 273 donors who came out to support Goodwill. Purchases of these donations in Goodwill retail stores will help fund job training and employment services free of charge for individuals in our community like Vernicee to find jobs and earn wages to support themselves and their families. Together, we can all make a difference.