By Sarah Ramberg of Sadie Seasongoods
Hi, there, fellow Goodwill Shoppers! My name is Sarah Ramberg, and I run an upcycling blog called Sadie Seasongoods. Like you, I absolutely LOVE to shop at Goodwill. My blog is dedicated to all things secondhand, and Goodwill is where I find a lot of the pieces that I upcycle for my blog and my home.
I thought I would share a super simple upcycling idea for you as we get into the holiday season. A picture frame from Goodwill is a great way to create a festive wreath for your front door. You can make it as simple or as decorated as you wish, and any level of crafter can make it.
Craft Supply List
Picture frame from Goodwill (I recommend one that is at least 8"x10" or larger in size)
Drop cloth or newspaper (To cover your work surface)
Paint and paint brush (Optional)
Wreath decorations (Anything you want for wreath decorating, such as flowers, greenery, or other small decorations)
Wire cutters and/or heavy-duty scissors
Hot glue gun and glue sticks
Twine or string (For hanging on your door)
Instructions
1. Select your picture frame from Goodwill. I choose this one because the sides of the frame were wide, which makes decorating even easier (i.e., more surface to glue things to).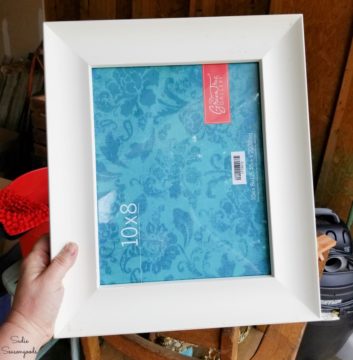 2. After removing any backing or inserts from your frame, wipe it down and prepare to paint it (painting is an optional step).
3. Allow the paint to thoroughly dry before moving onto the next steps.
4. Assemble your wreath decorating supplies! You can find these at craft stores, but check out your local Goodwill, too. You can often find floral stems, other pre-decorated wreaths, and spools of ribbon at Goodwill.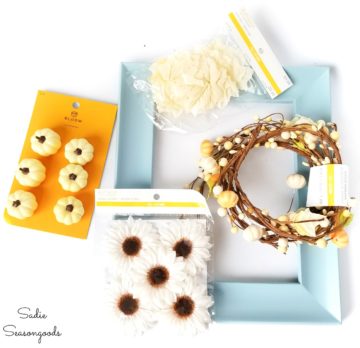 5. Use your wire cutters or scissors to cut down floral stems, ribbon, and other decorations as needed. Then, simply hot glue them on your picture frame!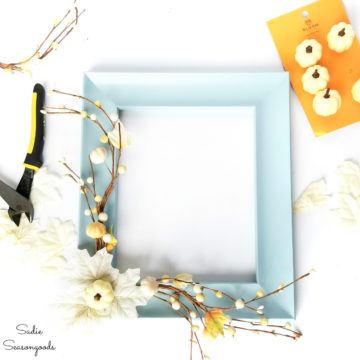 6. I kept this one pretty simple for a clean, neutral fall look. But you can decorate as much or as little as you want!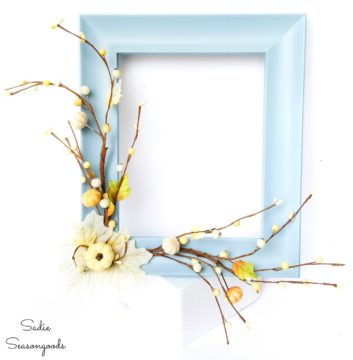 7. Lastly, loop some twine or string around the top of your picture frame and hang on your front door! 
Wasn't that fun and easy? My mind is swirling with future picture frame wreath ideas now.
Thank you so much for checking out this upcycling idea with me. If you repurpose one of your Goodwill picture frames into a wreath, tag me on Instagram or Facebook– I'd love to see it!
-Sarah at Sadie Seasongoods