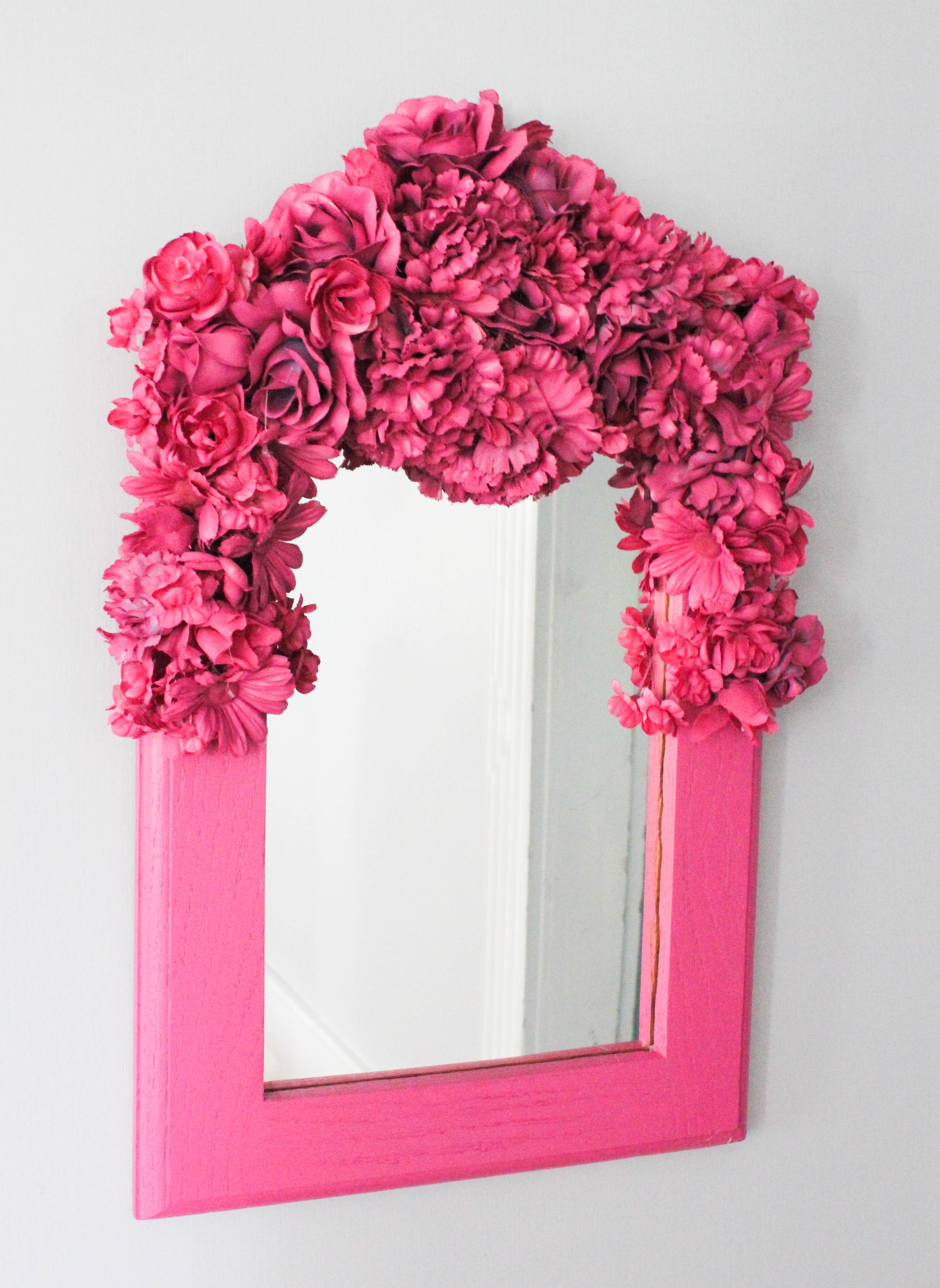 It's amazing how paint can change almost everything it touches. Interior designers understand the power of paint. For very little expense, a room or piece of furniture can be transformed into something new and beautiful. I love spray paint for DIY projects. It's fast, easy to use and comes in a multitude of colors. I recently worked with a client to redecorate her powder room. I couldn't find a mirror with a big 'WOW' factor, so I decided to make one for her. I found a mirror with a wide wood frame below (I made sure I could remove the decal before I purchased it), like one you could find at Goodwill.
The only other supplies I needed were:
Assorted silk flowers (of various styles and sizes)
Spray paint (I chose hot pink)
Hot glue gun
I find the easiest way to paint flowers is to stick the stems into a chunk of Styrofoam. Be sure to leave plenty of space between flowers so you can cover all sides. I always wear rubber gloves when spray painting. I held the Styrofoam upside down to get the bottom of the flowers without painting my hands.
To paint the frame, I removed the mirror glass before painting so there would be no over-spray to clean up. Tips for using spray paint:
Work in a well ventilated area. Outside is best, but avoid direct sunlight and days with high winds.
Cover up your entire work space. Spray paint will go everywhere, so protect the area surrounding your paint table.
Protect yourself. Wear a mask and gloves.
Make sure the item is clean. Sand wood surfaces and remove any debris with a tack cloth.
Wood projects generally require a coat of primer before starting. Primer helps the paint stick to the surface better. If you're painting light over dark, primer will help with coverage.
Shake well, shake well and shake well again.
Apply paint in one slow, even coat. Hold the can 6-8 inches from the surface and slowly move the can back and forth.
Spray several light coats to avoid drips and runs.
Apply additional coats of paint according to the directions on the can. Generally, wait 24 hours between coats. Light paint over dark surfaces will require more paint.
Have patience. A successful spray paint project takes time.
The flowers and frame took several coats. Silk flowers are made up of many petals, so I had to make sure that none of the original colors showed through. For a big impact, I painted the frame the same color. After the flowers dried, I cut off the stems and trimmed off the leaves. I started by laying the flowers out on the frame, rearranging until I found a layout I liked. Then I attached the flowers to the frame with a hot glue gun. I wanted a full, lush look, so the flowers are close together and overlap. I built up a peak of flowers at the top of the frame to make it look bigger and more impressive. I love the drama of a monochromatic mirror in a bold color. It's perfect for a powder room! Merri Cvetan is an interior designer who loves to create DIY statement pieces for her clients. She especially loves to use paint to transform and update items and spaces. Visit The Home Depot to find a wide variety of spray paints.