Economic Mobility Collaborative
What is the Economic Mobility Collaborative?
The Economic Mobility Collaborative (EMC) is a three-year, intensive client services pilot program launched by Goodwill Industries of the Southern Piedmont with support of community partners. The purpose of EMC is to establish and sustain an environment for participants and their families to effectively function in work and life by achieving strength across all 5 Pillars of Stability. Through EMC's theory of change, participants learn to form new habits, make impactful decisions and turn limiting beliefs to unlimited possibilities by making choices that align with their values.
Watch Akya's story of transformation 
Essential to determining if the EMC concept is a proven driver of change for the impoverished, the pilot program must be able to run long enough to collect the data it needs to show progress.
Financial donations to EMC go directly to supporting the program and benefit the participants in it. If this EMC model is effective, Goodwill can explore how to bring this idea to scale so it can serve exponentially more individuals and their families. But first, we need your help.
Please consider giving the gift of personal growth and development today to change the trajectory of someone's future!
$100: Buys one personal development toolkit (personalized tote, reflection journal, vision board materials and personal development books)
$250: Pays for one month of individualized coaching for one participant
$500: Underwrites one monthly Family Night
$1,500: Provides basic needs supports for one participant for one year (bus passes, gas cards, housing assistance, healthcare costs/copays and educational assistance)
$5,000: Underwrites social capital building experiences for all participants for one year (networking events, cultural outings and other local special events)
5 Pillars of Stability
EMC is based on finding solidity and strength across all 5 Pillars of Stability. EMC's theory of change believes that an individual is best equipped to make appropriate decisions for growth within these 5 Pillars. EMC provides opportunities for expanded experiences and choices to allow change to happen.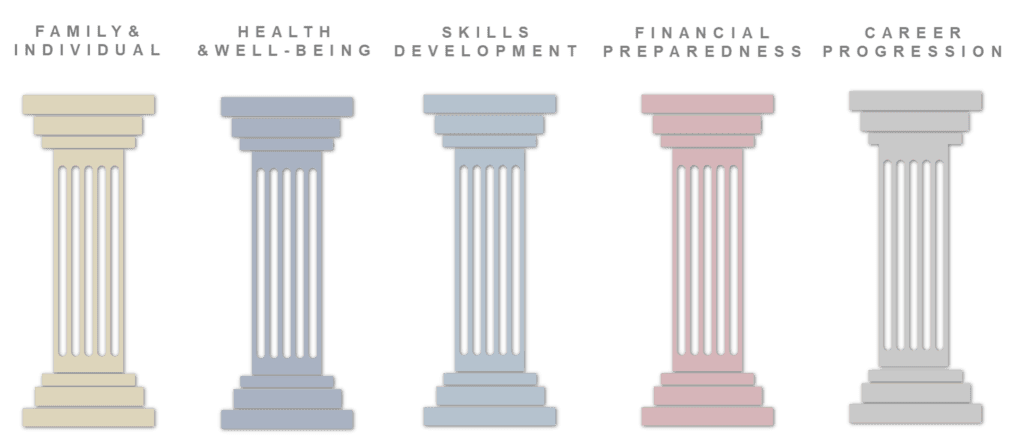 Why Coaching?
EMC utilizes a coach approach to achieve strength and balance across the 5 Pillars of Stability. Through weekly one-on-one coaching sessions, participants address the significant obstacles that impact their ability to be successful and break through the mindset that there is something holding them back. Coaching primarily affects the participants' mental ability to effectively reason, plan for the future and sustain momentum in the coaching process, while maintaining progress towards their goals.
Other Program Features
In addition to ongoing individual coaching, EMC also engages participants in group coaching sessions, Cohort Nights, Family Nights and a Professional Support Team to support them in their journey toward fulfilling their overall goals.
Cohort Night: Cohort Nights offer a space to build value in community within the cohort, while developing strong relationships with like-minded individuals. Cohort Nights help participants build social capital among one another through group discussions, group coaching and group support.
Family Night: Family Nights offer a space for cohort members to invite family members into the cohort to further understand and be a part of their personal growth journey. Family member buy-in is very important to changing habits and maintaining progress towards goals.

Professional Support Teams: A participant's Professional Support Team offers a space to build value in community with those outside of the cohort and the collaborative, while developing strong relationships with people who help them stretch outside their comfort zone. A participant's Professional Support Team primarily affects participants' relationships with the community-at-large and beyond as they engage with a self-selected team of individuals who can support their goal achievement. Participants are not only responsible for selecting their team; they also call the team together for regular meetings and set the agenda.
Community Partners
The issues of poverty are very complex. Several obstacles can get in the way to hinder individuals' ability to move out – and stay out – of poverty. Obstacles include: healthcare, transportation, Internet access, food insecurity, skills, criminal background and the benefits cliff. Because of the complexity of each individual's circumstance, it's vital that partnerships fuel this program to meet the specialized needs of EMC participants. Goodwill has partnered with the following community organizations to provide wrap-around services to EMC participants:
Center for Community Transitions
Charlotte Community Health Center – West
Charlotte Family Housing
Common Wealth Charlotte
Crisis Assistance Ministry
Habitat for Humanity Charlotte
Women Executives
Renaissance West Community Initiative
Want to become a participant?
Application forms will be available for individuals who would like to apply for participate in the third cohort. The third cohort will launch August 2019 and applications will be available in May. If you or someone you know would like to apply to participate, please contact the program manager, Maya Feemster-Jones at Maya.Feemster-Jones@goodwillsp.org.