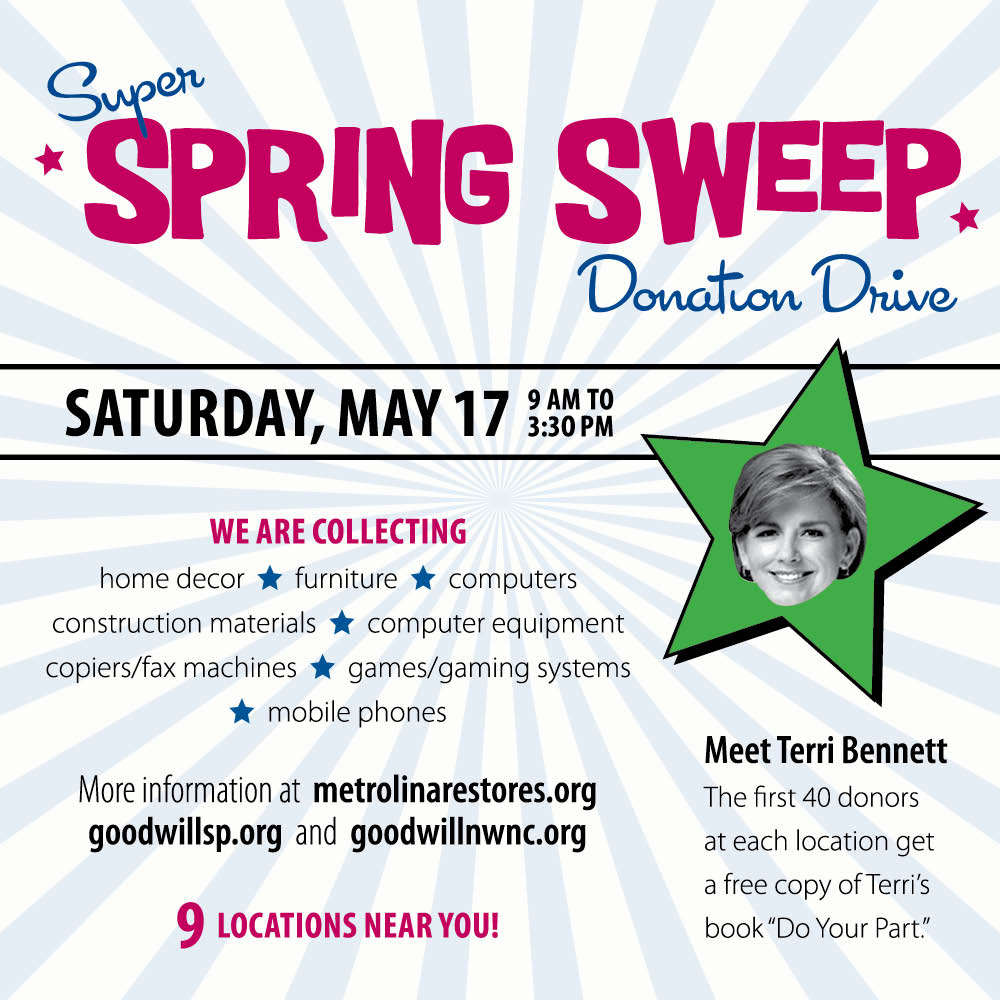 Spring is the perfect time to get your house in order, and Goodwill Industries and Habitat Metrolina ReStores are here to help in a big, big way — think two states and five counties. On May 17, the public will have the opportunity to support both organizations by taking part in an unprecedented household goods and electronics joint donation drive at nine ReStores throughout the region.
From 9am-3:30pm on that Saturday, visitors will have the opportunity to donate their gently used items to two organizations at once: electronics (computers/computer equipment, printers/copiers/fax machines, games/gaming systems) to Goodwill and household items (decor, furniture, construction materials) to Habitat ReStores. Everyone can follow along on social media by using #donatecarolinas in posts on Facebook, Twitter and Instagram.
Media personality Terri Bennett will be on hand at select ReStores to share tips and give away "Do Your Part: A Practical Guide to Every Day Green Living," to the first 40 donors at each location.
ReStore locations participating in the drive include:
• Habitat for Humanity of Gaston County ReStore, 1840 E. Franklin Blvd., Gastonia
• Habitat for Humanity of York County ReStore, 825 N. Anderson Rd., Rock Hill
• Charlotte Habitat for Humanity ReStore, 1133 N Wendover Rd., Charlotte
• Our Towns Habitat for Humanity Restore, 20414 N. Main St., Cornelius
• Our Towns Habitat for Humanity Restore, 121 Norman Station Blvd., Mooresville
• Habitat for Humanity of Cabarrus County ReStore, 2902 S Cannon Blvd. Kannapolis
• Habitat for Humanity of Iredell County ReStore, 1382 Shelton Ave., Statesville
• Habitat for Humanity of Catawba County ReStore, 772 4th St. SW, Hickory
• Habitat for Humanity of Lincoln County ReStore, 809 E Sycamore St. Lincolnton
More than 246 million tons of material was dumped in 2005, much of it recyclable. By donating gently used furniture, electronics, appliances and fixtures to Goodwill Industries and Habitat ReStores, you become part of the solution to reducing fossil fuel consumption, reducing landfills in your backyard while helping others in local communities.