With this wishy-washy weather, do you find yourself wondering – "What season even is it right now?!" If your daily wardrobe is a confusing mix of winter and spring right now, you're not alone! Transitional style is tough. You can't quite put away your winter wardrobe – but it's not warm enough yet to give those spring staples a permanent home in your closet. The great news is you don't have to spend a ton of money to find some transitional pieces to bridge the gap between seasons. At Goodwill, you can find all you need to make the morning, "What do I wear today?" frenzy a little bit easier.
We stopped by the South Boulevard Goodwill store with our friend and fashion insider Stacee Michelle looking for staple pieces for this in-between time. These looks and more that were "Styled by Stacee" this month will be released and available for purchase at our South Boulevard store on Friday, February 21. Scroll on to read some of Stacee's fashion tips for transitional style.
1. Go for neutrals: Olive and gray are great neutral colors that will compliment your warm and cool weather clothes.
We love these J.Crew jeans in an olive shade that Stacee found. The pants can work in any weather – paired with a tank and cross-body for a warm weekend day, or an oversized side-zip sweater like this one when the weather calls for a cozy day inside. Or mix, up the olive and gray color palette with a print like these cargo leggings! Jeans – $5.99, Sweaters: $3.99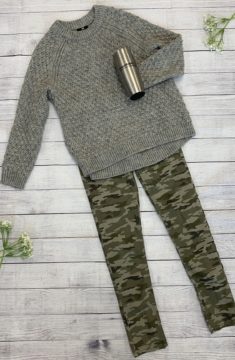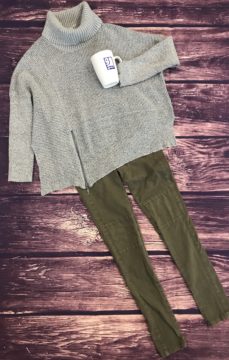 2. Add seasonal layers: Match the "season of the day" with an outer layer like a flannel, cute rain coat or cozy cardigan.
Stacee showed us how to mix seasonal items when she layered this warm, thick flannel vest over a lightweight, summery tissue tee. Paired with Hudson jeans, this outfit will keep you cozy in the cold, or take off the vest and feel the breeze when the sun peeks through! Jeans – $5.99, Long-sleeved T-shirt – $3.99, Vest – $7.99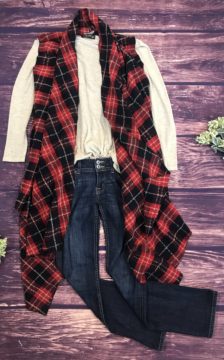 3. Focus on Textures: Texture adds depth to an outfit and can keep your style "in season" and interesting!
These heathered joggers Stacee found are a perfect example of a textured item that can go between seasons – pair them with a sweater or sweatshirt, or a tank! Stacee found interesting textures on these two sweaters than can add interest to any outfit. We love the deep purple of this "eyelash" sweater, and the raised stitching and fringe on this wool one!  Sweaters – $3.99, Joggers – $3.99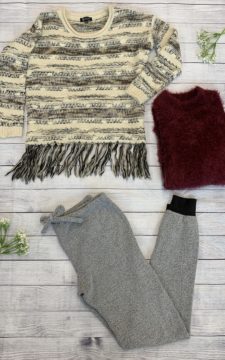 If you can't make it to the South Boulevard Goodwill store to shop these looks and more on Friday, February 21, you can still use these tips to find seasonal trends at a Goodwill store near you!