Spring has sprung, and this month's trend will help you dress for the occasion. Wardrobe stylist and fashion insider Stacee Michelle taught us all about pairing sneakers with skirts and dresses. The possibilities are endless – this duo can be a polished, feminine look fit for Mother's Day brunch, or be styled to bring some edge to a classic sundress. Stacee shopped both locations of the GW boutiques in South End and at the Goodwill Opportunity Campus to create a curated collection of fashionable items just for you! The collection goes live at both GW boutiques on Friday, May 7 – shop these looks before they're gone! Scope out the Styled by Stacee price tags to find items Stacee hand-selected just for you!
1. A classic white sneaker is a great place to start to pair with literally any dress! Pro tip – You can keep the classic white look, but mix up the laces to add interest! This navy striped dress is timeless and works on nearly any silhouette.
2. When you're styling a sneaker with a more detail, like the Keds shown above, don't be afraid to wear a simpler outfit to let the shoes shine! This monochromatic look is casual, effortless, and so chic.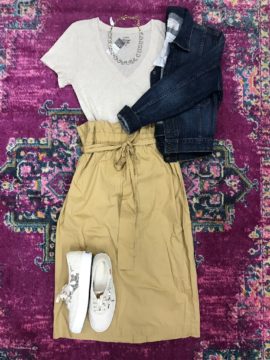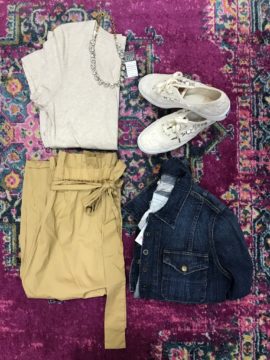 3. When you're ready to go all the way with this trend, grab that special occasion dress like this embellished Tory Burch number, and pair with a sparkly sneak in a complimentary color.
We'll be posting new blog posts each month featuring some of Stacee's finds and helpful tips to help you recreate trends such as pairing dresses and skirts with sneakers, mixing prints, creating monochromatic outfits, rocking vintage and graphic tees, and more! Follow us on Instagram to stay up on the latest trends and tips and find out when Stacee's collection is launching each month: @GoodwillSP @itsstaceemichelle.
Stacee is a wardrobe stylist and fashion insider who has been featured on E News!, FOX and BET, among others.You can find her around the Queen City and nation styling famous athletes, celebrities and artists, and now she's shopping for you — handpicking trendy items each month that will be available in a Styled by Stacee collection at Goodwill's fashion-focused GW boutiques! Styled by Stacee launches the first Friday of each month – with hundreds of hand-selected styles available to shop at both locations of GW: A Goodwill Boutique. When you shop Styled by Stacee, you're not only getting trendy items handpicked by a professional for a fraction of the price – you're also helping to fund Goodwill's mission of providing job training and employment services free of charge to anyone in our community.