Football season is finally here! But you don't have to break the bank to get your game-day looks. We stopped by Goodwill's Concord store with our friend and fashion insider Stacee Michelle looking for fashionable outfits to wear to Panthers' parties, tailgates and games.
If you like these looks, you're in for a treat. These looks and more that were "Styled by Stacee" this month will be released and available for purchase at our Concord store starting at noon on Friday, September 13! Scroll on to check out game-day looks you'll love no matter your personal style.
1. The Classic Look: A cute tee is the perfect place to start to create your game day look. Stacee spotted some grey vintage tees that are perfect to compliment fall styles like jean skirts, cargo jackets and heeled booties.
Tee: NFL Shop – $3.99
Jean Skirt: Gap – $3.99
Jacket: Xhilaration – $4.99
Booties: White Mountain – $4.99
2. The Edgy Approach: Transitional items like leather and jean skirts are great to wear while watching fall's favorite sport in the South, when the weather's still unpredictable. Stacee put together this 80's-inspired look with a vintage Panthers' thermal, edgy black combat boots and a black, faux-leather skirt.
Shirt: Reebok – $9.99
Skirt: H&M – $3.99
Boots: BareTraps – $4.99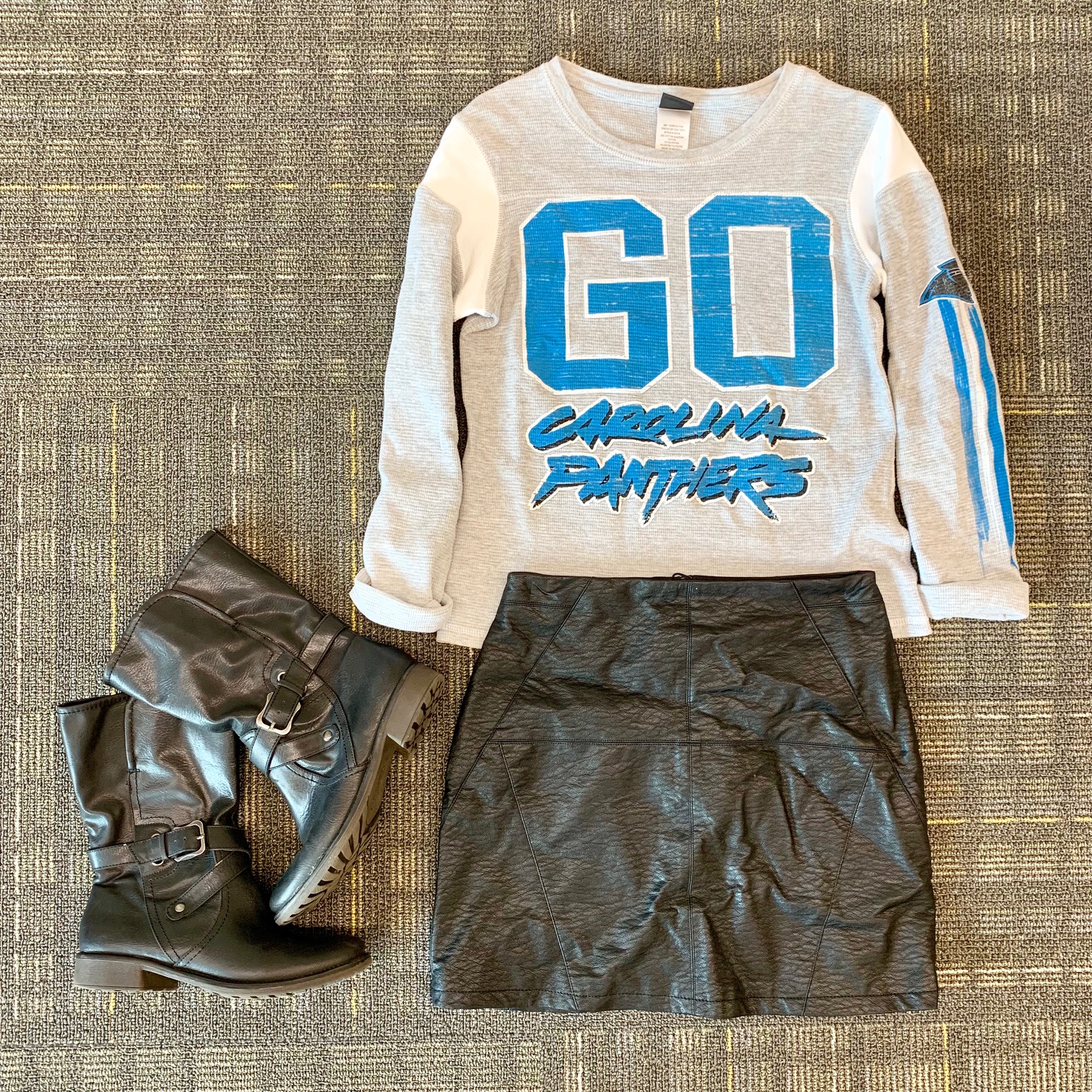 3. The Uptown Chic: Don't be afraid to show your personal sense of style by pairing your Panthers' tee with a pair of bold jeans. Stacee called this find a "fashionista's dream" – high-waisted, frayed-hem, wide-leg Zara jeans with the tag still on! But wait… it's after Labor Day! Stacee says that's okay – you can keep wearing your whites all year.
Tee: NFL Shop – $9.99
Jeans: Zara – $5.99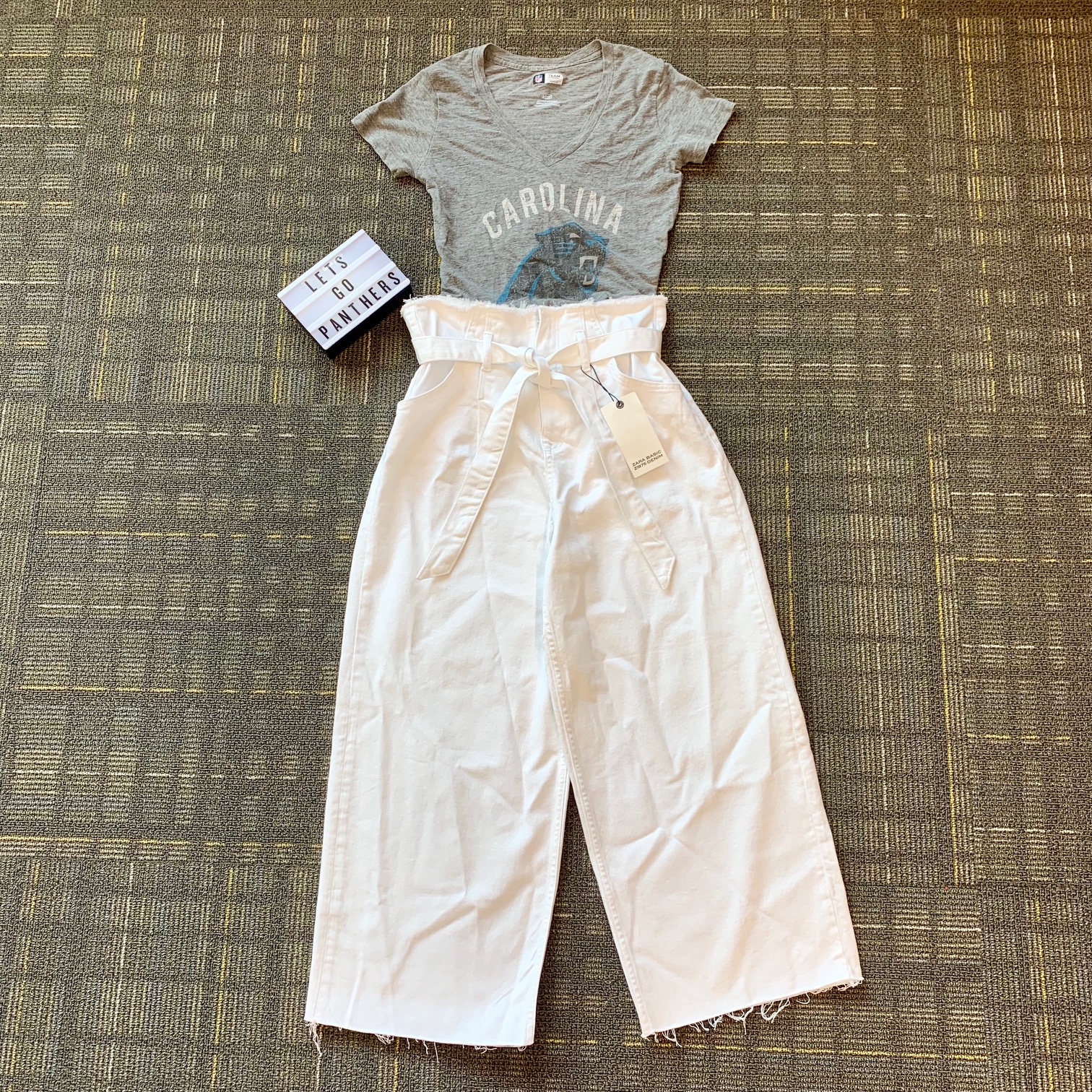 4. The Full-On Fan: If game day is less of a fashion show and more of an opportunity to display loyalty to your team – Goodwill has got you covered! Stacee found tons of great jerseys and items to show your Panthers' pride. She paired these Panthers' printed pants with a Cam Newton jersey, a logo hat and on-trend knit sneakers.
Jersey: NFL Shop – $24.99
Leggings: Majestic – $3.99
Shoes: True – $4.99
Hat: New Era – $0.99
5. The First-Time Fan: Stacee couldn't pick just one onesie for the little Panthers' fans! Goodwill has looks for the whole family and with infant outfits priced at just $1.99 – you can pick up a few extras for the inevitable outfit change.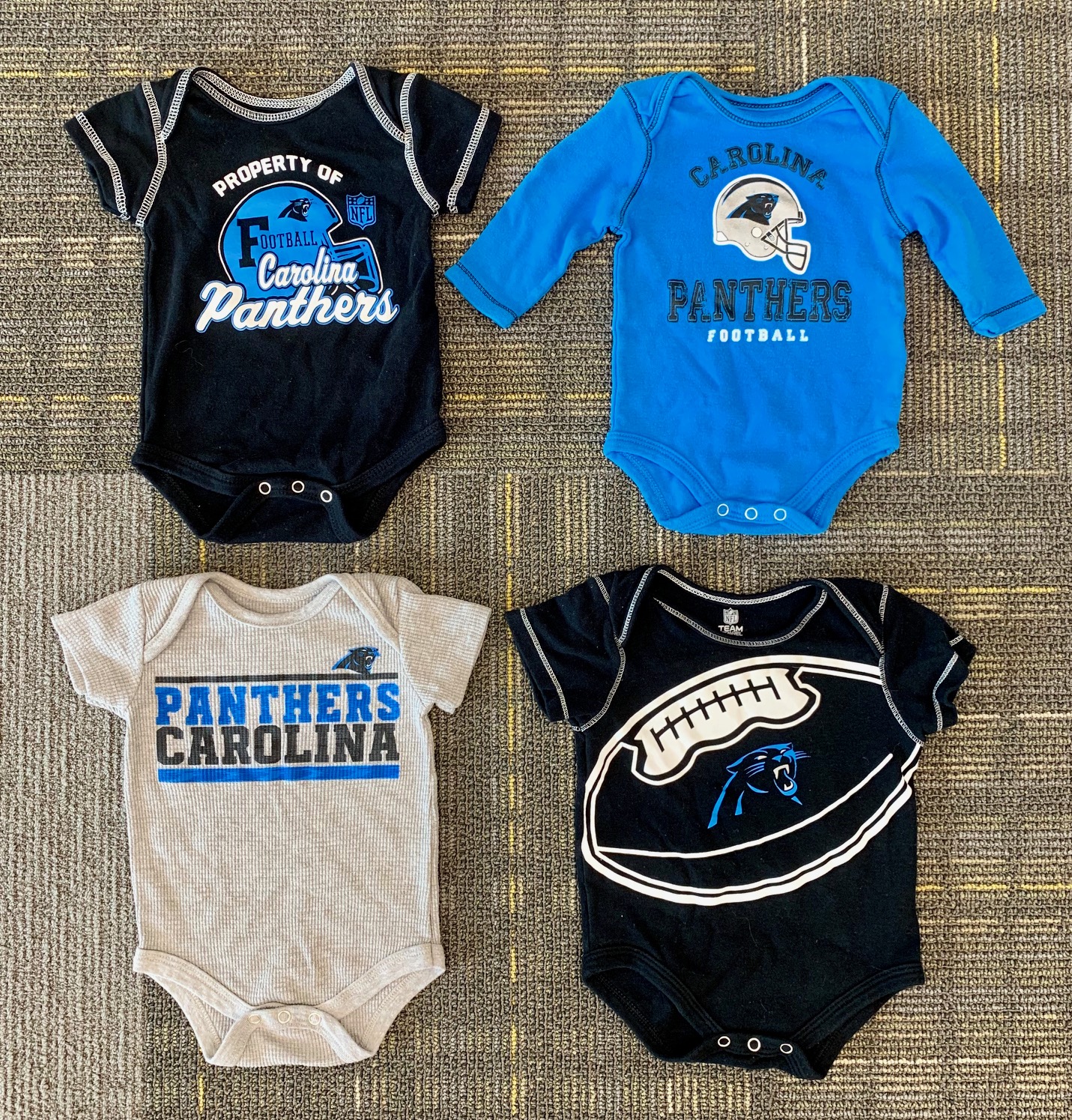 Follow us on social media @GoodwillSP to get a sneak peek of all of the items Stacee found this month! If you can't make it to the Concord store to shop the Styled by Stacee collection on Friday, September 13, you can still use Stacee's tips to find game-day fashions in a Goodwill store near you!