It's our favorite time of the year – Halloween! Goodwill stores are full of spooktacular items to create one-of-a-kind costumes for the whole family! In fact, every Goodwill in the greater Charlotte region is turning into a Halloween Headquarters the weekend of October 11 – 13. We'll have lookbooks to inspire you, new costume items to top off your DIY designs and costume stylists ready to help you whether you want to look ghoulish or gourd-geous this Halloween.
In its annual Halloween survey, Goodwill found that more than half of Americans will DIY their costumes this year – because the most desired looks are ones that are one-of-a-kind and completely unique. We stopped by Goodwill's Mountain Island store with our friend and fashion insider Stacee Michelle to get her top tips for customizing a costume fit for a #HallowQueen!
1. Find a Starter Piece: Start with whatever jumps out to you the most and then use this to spook up the rest of your costume! After we spotted these ruby red pumps, Stacee followed the yellow brick road to this adorable Dorothy costume. Since Goodwill has much more than clothes, she was able to easily find a basket that perfectly fit our faux-Toto. There's no place like the dress section to find the perfect blue gingham frock to wear over a ruffled white button-up.
Blouse: iz – $3.99
Dress: Melissa Harper – $5.99
Pumps: madden girl – $4.99
Basket: $1.99

Stuffed Dog: $1.49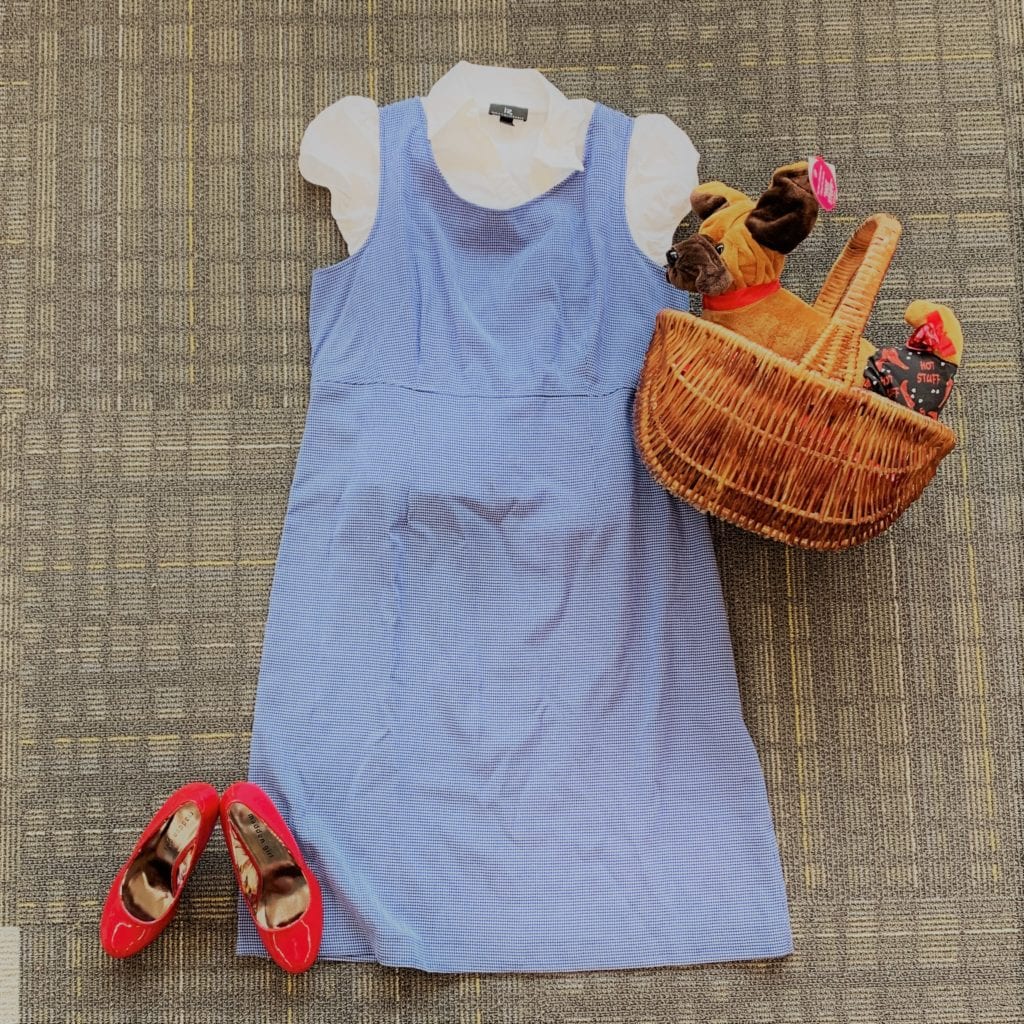 2. The Classics are Back: Goodwill's annual Halloween survey found iconic Halloween costumes are popular again this year – from ghosts to zombies and yes, even witches! Stacee found this sparkly purple shawl that reminded us of Hocus Pocus! A purple witch hat and broomstick from the new goods section of the store were the perfect ingredients to stir up this enchanted look. Paired with a velvet bell-sleeve dress, this look is sure to leave your fellow ghouls and goblins spellbound! (Book of spells not included.)
Dress: Old Navy – $5.99
Shawl: $3.99
Broom: $1.49
Witch Hat: $2.99
3. Keep an Eye Out for Costumes: If you're not the most creative DIY-er, don't worry! Goodwill has plenty of costume items – both new and donated – that can help you create the one-of-a-kind look you want with a little less effort. Stacee spotted this Gryffindor robe straight from Hogwarts that helped our Harry Potter-inspired look come together quickly! Ten points for Gryffindor! With a white button-down shirt and vintage tie, boys and girls alike will look ready for their next potions class. Back in the new goods section, Stacee found a variety of wands to top off this magical look – we'll let you guess which wand chose her…
Wizard Cape: $4.99
White button-down: LOFT – $3.99
Men's tie: $1.99
Wizard Wand: $1.99
4. Work With What You've Got: Goodwill is a great place to find unique items to add some flair to what you've already got in your closet. Stacee found this suede fringe vest that inspired a 70's hippie rock costume. She paired it with studded black jeans and studded suede booties to add some edge a la Stevie Nicks. Or, you can go your own way and pull out your black skinny jeans or your flared denim and boots to complete the outfit from your own closet. To keep this costume feeling groovy, Stacee also snagged an album from Goodwill for just 99 cents. Can ya dig it?
Vest: Mossimo – $4.99
Blouse: AKA – $3.99
Jeans: Forever 21 – $5.99
Booties: Mossimo – $4.99
Record: $0.99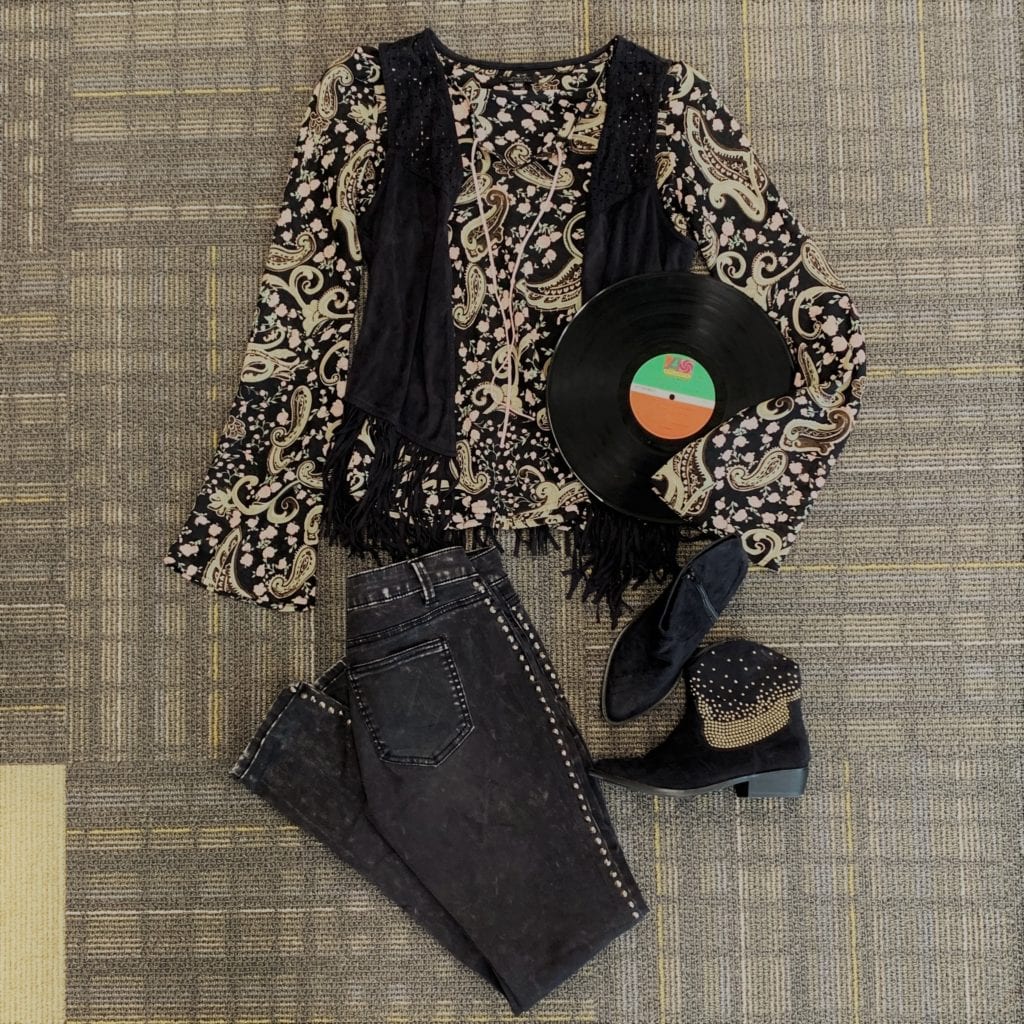 Follow us on social media @GoodwillSP to get a sneak peek of all of the items Stacee found this month! If you can't make it to Goodwill during our Halloween Headquarters weekend (October 11 – 13) you can still use Stacee's tips to create one-of-a-kind costumes at a Goodwill store near you!