Let's start off with a few facts about me. I'm a college student, I love fashion, I love being social and I have little to no money to spend on clothes. College is easily one of the most active times of your life. The fall semester of college is one of the busiest and most active by far. There's Welcome Back to School events, new classes, internships, parties, football season, etc. There's classes and internships by weekdays, tailgates and parties by weekends (which start earlier for us college kids because class on Fridays is a rarity). With everything being so hectic and money being so tight, where does one get all the outfits required to make a good impression? My secret? Goodwill of course. With numerous locations in the Southern Piedmont region, especially the University area, why not get drop-dead gorgeous looks for heart-stopping prices?
 Everyone that knows me knows that I am one of Goodwill's biggest supporters. For me personally, Goodwill is almost all I wear, and frankly, it shocks people. My outfits are very unique and usually contain pieces that would normally be too expensive for me to afford on a college budget. Money is tight and I'm in no place to spend $30 on a single shirt. I really started utilizing Goodwill during high school, which soon transferred into my college career because I got so use to it. I mean, once you spend less than $5 on a shirt that would normally be around $50, you tend to not go back to the mall.
When asked who my main fashion inspiration is, it's actually a what: Pinterest. I say that because of all the different and unique outfits you see there on any given day. There's a different style around every click and that's my favorite part because I don't like to wear the same style every day. Goodwill mirrors this philosophy of mine because different people donate different things and that allows me to switch from preppy chic to bohemian goddess.
Everyone always asks me, "But Lily, how you find all of these great things?! When I go to Goodwill, I usually find a funny t-shirt and that's it." Well my friends, patience is a virtue and when shopping at Goodwill, taking your time and really going through ALL of the items is key. Depending on which Goodwill stores you go to, the racks are either laid out by color or by size. I've been to both and enjoy both layouts because they offer a different shopping experience. I usually spend around 30 minutes to two hours at a store depending on how in-depth I feel like looking. Some days end with me leaving with two items and some end with me leaving with two bags. You never know what you're going to get, and that's half the fun of it. The other half is getting to brag that your whole outfit was less than that $50 shirt mentioned above.
Not only is Goodwill a much cheaper way to look fabulous, but they also help people in your own community. How? You ask. Well, about 90 cents of every dollar that you spend at Goodwill goes towards job training and employment services for people right here in our community. This also happens every time you round up your change on your purchase at one of the retail locations. Your change is LITERALLY creating change in someone's life. Talk about being a part of something bigger than yourself.
On that note, I want to give you all a formal introduction. My name is Lily, I'm a senior Public Relations major at UNC Charlotte and the point of this five-part blog series is so I can let my peers in on a little secret that's going to help them save a lot of money and still look remarkable. So let your individuality fly! Be whoever you want to be and wear whatever you want to wear but try doing it at a price that lets you thrive. Your Anthropology 1101 textbook already took a big bite out of your wallet, don't let your style do it too. I hope you enjoy my first blog post in this five-part series!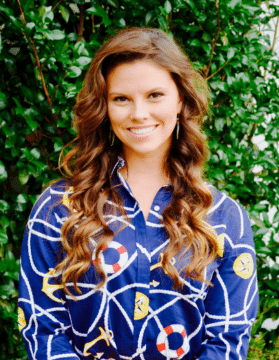 Okay, But First, Coffee: The Weekday Option
With the leaves changing and the temperature getting a little more brisk, this breathes life into college campuses. The cooler weather means we can wear cute outfits to class and not end up sitting down with sweat dripping from our brow. One of my favorite looks to wear around campus is a pair of American Eagle boyfriend jeans that I got last summer for $4.99 with a casual t-shirt that was purchased for $3.79. The looks says "I'm comfortable but not in an oversized t-shirt and Nike shorts kind of way." Even though I am a full supporter of this look too, sometimes it's nice to walk around campus and look a step above rolling out of bed and coming to class.
If you are just totally against this idea of jeans and class, I get it. Who wants to sit through three classes in jeans? That's fine! Did you know there's an athletic section in Goodwill too? I have name-brand running shorts, athletic pants and leggings that start between $3.50 and $5 that are usually paired with a t-shirt and a soft cardigan or sweatshirt. These options offer a comfy weekday outfit for those days that you really don't want to leave your bed and coffee is the only thing putting a pep in your step.