We've made it people! It's the weekend! With everyone's schedules being so crazy (thanks midterms, but no thanks) here is the fourth installment of the savvy college student blog series written by yours truly. If you missed parts 1-3 of the blog, click here to check those babies out. If you're back – hey, it's good to see you again. Sit back, have a margarita (if you're of age, please) and let's talk about what to wear this weekend. It's going to be poppin'.
T.G.I.T.W. (Thank Goodness It's the Weekend): The Casual Weekend Option
Ah the weekend. Two (or three, depending on if you have Friday classes) days of complete relaxation. But is it really? For us college students it rarely is. There's homework that was assigned the week before that needs to get done, like, yesterday; an exam next week that, let's be honest, you aren't quite ready for; brunch with your significant other's parents; and your BFF's twenty-first birthday party is tomorrow night. Solid. With that being said, you now have three outfit choices that are critical, and you have $20 to your name. Whether it be a casual lunch or shopping date with your friends, Goodwill has you set. With plenty of casual, fun styles that can be worn anytime, you can look fresh-faced and ready to go without spending a lot of green.
After a long week, the last thing you want to do is wake up on a Saturday and throw on uncomfortable clothes. So don't. One of my favorite things about Goodwill is that all their clothes are already broken in. So those jeans that you spent $4.99 on would normally take wash after wash to actually become comfortable, but they already are because someone else spent the money and time giving them that favorite-pair-of-jeans feel.
When you do have time on the weekend to do something fun like going to see the new scary movie that came out last week, you want to make your diet's cheat day count, so you bring a plethora of snacks. How does one carry said snacks? You get an adorable oversized bag from Goodwill starting at $3.99. I myself have smuggled snacks into the theater because I don't want to spend $6 on a box of Milk Duds. Below are two outfits that are 100% from Goodwill that can be worn out to numerous occasions. So that brunch date we talked about? Boom. Jeans, a flannel and a cute scarf. The movies? How about some cute overalls and a comfy fitted t-shirt with that oversized purse? Perfect.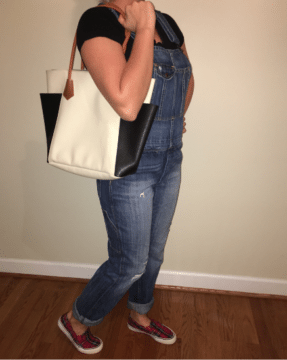 Sparkle & Shine with a Night Out: The "Going Out" Option
One of college kids' favorite things to do is blow off steam (responsibly, we promise). Let's be real here: after a long week of midterms and trying to figure out if this week's reading was either Chapter 4 or Chapter 10, or possibly both, the bars in South End, Uptown and University are pretty packed. We also crave the social setting. And there's no better way to start a conversation than with a really unique skirt you got for $3. That tends to be the most common conversation I have when I go out: "Where did you get ____?! I HAVE to have it." Trying to explain to the girl next to you while washing your hands in the bathroom that you got whatever article of clothing she's asking about from Goodwill strikes a lot of curiosity.
 In my generation, there's a lot of expectations as to what we're supposed to wear. I guess it's really like that with any generation. My mom still asks me when she wears something, "Is this age appropriate?" Her outfits always are, she just asks to be totally sure because wearing the wrong thing can give people a different impression than you originally wanted. The trick is knowing how to take stylish things from the high-end magazines and websites and make them affordable and trendy. When going out, I really stick with the basics and throw a signature piece in every once in a while. For instance, I have this pair of black high-waisted skinny jeans from Goodwill that I paid $4.99 for and I wear almost every time I go out. That's less than a mixed drink at the bar. They are comfortable and an absolute go-to because I can wear them with a plain top or an interesting pair of shoes, and it still works.
Some people like to dress things up a little more when they go out. Say there's a birthday party and you're going to a nice dinner and then hitting some of the fancier clubs uptown. Maybe you want to wear a dress and some heels. Goodwill has dresses starting at $5. I have dresses I've gotten from Goodwill that are brands like Express, Bebe, Forever 21 and Guess that I've all worn out before. I also have shoes from designers that I would never be able to afford if they weren't from Goodwill. I've gotten shoes from brands like BCBG, ALDO, Gucci, and Steve Madden. My favorite pair of "going out" shoes are Sam & Libby (you can buy this brand at Target) but I got them brand new for $3.79 from Goodwill instead of paying $30 somewhere else.
Another big thing for me is carrying a purse. It's not something fun to do, but what else are you going to do with your apartment keys, lipstick and gum? When I go out, I carry a crossbody bag. I have three that are my go-to's starting at $3.99. They allow me to carry all my important stuff in a cute, fashionable accessory, and now I barely notice I'm carrying a purse at all. It can also add much needed texture or color to an outfit.