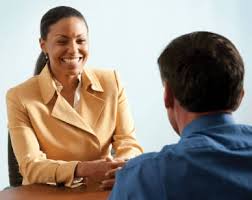 Does the idea of a job interview make your palms sweat? Human resources consultant Harry Tatum has worked with hundreds of prospective job seekers during his career. His interview tips reveal how you can make the best impression.
Be early, at least 15 minutes. Running late not only suggests poor time management skills, but also shows a lack of respect for your interviewer.
Dress for the interview. Interviewers will take a well-dressed candidate more seriously, says Harry. Job seekers should dress in "business casual" clothes at minimum. Although appropriate interview attire varies from industry to industry, Harry recommends that men should wear a tie and women should wear a skirt or slacks. "Always try to be a bit more dressed up than what is required," he counsels. Either way, do your homework. Call or visit to find out what the office dress code is.
Learn and use the receptionist's name and be friendly with him or her. Introduce yourself to the receptionist and give your name. Front desk staff may tell the interviewer if you behaved rudely.
Use firm handshake and make eye contact. First impressions begin the moment you walk in the door, so be ready. Even something as simple as negative body language can weaken your chances for a call-back, so make sure you aren't hurting yourself without knowing it.
Treat interview as a business meeting with both applicant and interviewer having an important role. Your job is to show the connection between what you have achieved and what is really needed to succeed in the specific job and context. Hiring managers are expected to select candidates who possess strong skills and experience, while also making a great fit for the company.
Ask important questions such as "What are the strengths of the company?", "What are you looking for in employees?" and "What makes employees successful here"? This is your chance to not only make a good impression, but learn a bit more about the job you're applying for. Nothing impresses a recruiter more than a really good question that not only shows you've researched the company in general, but also the specific job you're hoping to land in particular.
Listen to each question carefully and answer briefly and concisely. Interviewees rambling on is one of the most common interview blunders that Harry sees.
Don't ask about hours, shifts, pay or benefits. That will come later. Company benefits and salary negotiations don't usually come into play until an offer has been extended. The same principle applies to sick time and vacation days. Avoid any question that sounds like you assume you already have the position–unless your interviewer brings it up first.
At the end ask "What's the next step?" Asking about the employer's timeline for hiring and next steps in the decision-making process will give you a clearer understanding of what to expect should you advance to the next stage.
Ask each person who interviews you for their business card. Exchange yours if you have one.
Write and mail (don't email) a thank you note when you get home. Harry recommends mailing a handwritten letter because it requires the hiring authority to at least open it and probably read it. Although writing a thank you note is more trouble than sending an email, you benefit by having your name put back in the mix a second time. "Having said that, it is far better to email a thank you note than do nothing at all," says Harry.
Harry Tatum is a volunteer with Goodwill and provides job search and resume development assistance. Need job search advice? Email Harry at hftatum@aol.com to have your question addressed in a future blog post.