Hi again! It's me – Lily, the intern. I'm back for one last blog post. If you missed my blog last week about easily creating DIY Halloween costumes from Goodwill for a fraction of the price you'll find at Halloween retailers, be sure to check it out here. On a less scary note, let's chat about cold-weather clothes. Everyone is in the process of switching their closets over from bathing suits to parkas because it's FINALLY getting colder. I will say summer is my favorite season, but I'm tired of sweating while walking to classes, so the chillier weather is a welcomed change. I am going to need the weather to pick a side though – it was 50 degrees the other morning but this past weekend felt like June. My sinuses can't take it. Seriously…I think I've gone through two boxes of DayQuil/NyQuil in the past month. Earlier this week, when it actually was fall-ish weather and I was not sick, I decided to do a little shopping for my fall wardrobe, and I wanted to share some finds I got for this season.
The first look I achieved is still for the awkward crossover period where it's not really "jacket cold" but a scarf is totally appropriate. And who doesn't like scarves? They're like hugs for your neck. The denim on denim look is very touchy, but with these two denims being totally different colors, it actually works and is very casual cute. The scarf was $2, the American Eagle jeans were $4.99, the light denim shirt was $3.75 and the booties were $4. The second outfit is a little bit more casual but still the same vibe of casual cute. I found this SUPER soft tan sweatshirt for $3.75 that scrunches on the bottom and the hood. Pair it with some medium-wash jeans that I found for $4.99 and the same brown booties (yes I'm all about them) and you have an equally trendy, casual option.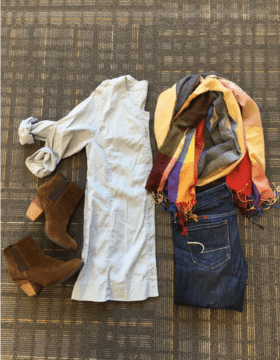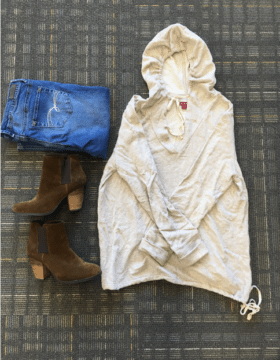 The next two outfits are a little fancier. The yellow skirt I got for $3.50 brings in a very pretty fall color and has cute buttons on the on side that add a nice flair to the classic pencil skirt. The purple silk top that was only $3.75 adds a different texture to the outfit while still boasting a fall color. I get it, they're two very different bold color choices right next to each other. But they both tie in to the fall color palette. On the flip side, we have what my mom would call a "winter white" asymmetrical skirt from H&M that I got for $3.50 and a light pink flower jacket (that is surprisingly warm) for only $4.25. Pair these with a pretty top and some nude heels and you're ready for an exquisite party Uptown.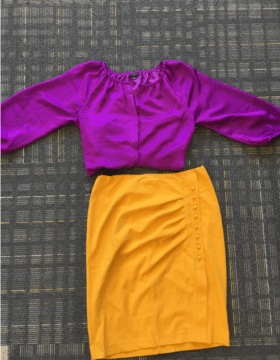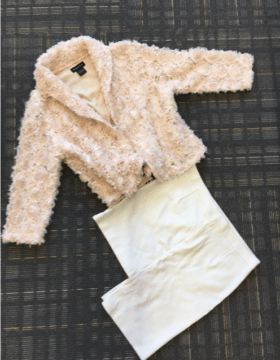 As you can probably see by now, when I joke with people about how all of my clothes are from Goodwill, I'm not kidding. "Another season, another shopping trip to Goodwill" is essentially my motto. I hope that these blog posts have helped you realize that you can find amazing brand-name items for way less than retail prices. Not only are you getting great clothes, you're helping people too. So next time you clean out your closet, take your donations over to your local Goodwill and step inside to see what deals you can find. This is Lily over-and-out….mic drop.