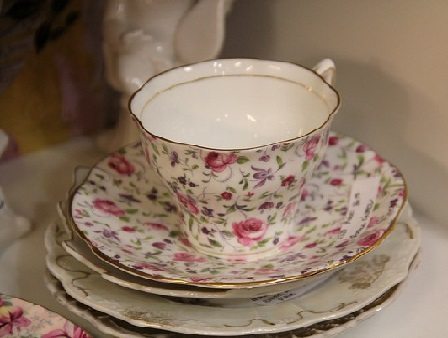 At Goodwill you can always find some very pretty teacups and saucers. But did you know that you could use them for more than just sipping tea? Teacup candles are a fun gift or home decorating idea that you can make from vintage teacups. With only a few ingredients needed, you can tackle this DIY project in no time.
First, select your cup and saucer set. Any teacup will work, depending on the look you are going for. Once you have the cup you will need:
• Candle wax flakes
• Wicks
• Candle scent and color, if desired
• Chopsticks or kabob sticks
• Tape and scissors
• Double boiler
Directions:
1. Set up your wicks. Place the metal part at the bottom center of your cup. Then tape the chopsticks together so that they lie across the lip of your cup and hold the wick steady.
2. Once your wick is in place, use the double boiler to slowly melt the candle wax. Add scent and color if desired.
3. Carefully pour the melted wax into the cup, being sure not to dislodge the wick.
4. Let it cool all the way until the wax is firm before lighting the candle.
That's all there is to it! Easy and fast, making a tea cup candle is a fun way to add light and color to your home. Give them as gifts for a homemade touch that looks extravagant but is affordable, thanks to Goodwill!
Rachael Cherry is a wife, mother, and writer who is passionate about helping connect families in need with high quality caregivers. She has taken that passion and put it to work through NannyPro, a respected online nanny referral service. Learn more by visiting @NannyPro on Twitter.