There are plenty of ways to save money on your wedding, from trimming your guest list to making your own decorations. My last post in Part 1 showed you how to decorate on the cheap using antique teacups and picture frames, but the thrifty inspiration is still flowing! Between using vintage linens to your DIY advantage and scouring Goodwill for one-of-a-kind centerpieces, I have a few more fun ideas that will put your nuptial celebration over the top without breaking the piggy bank.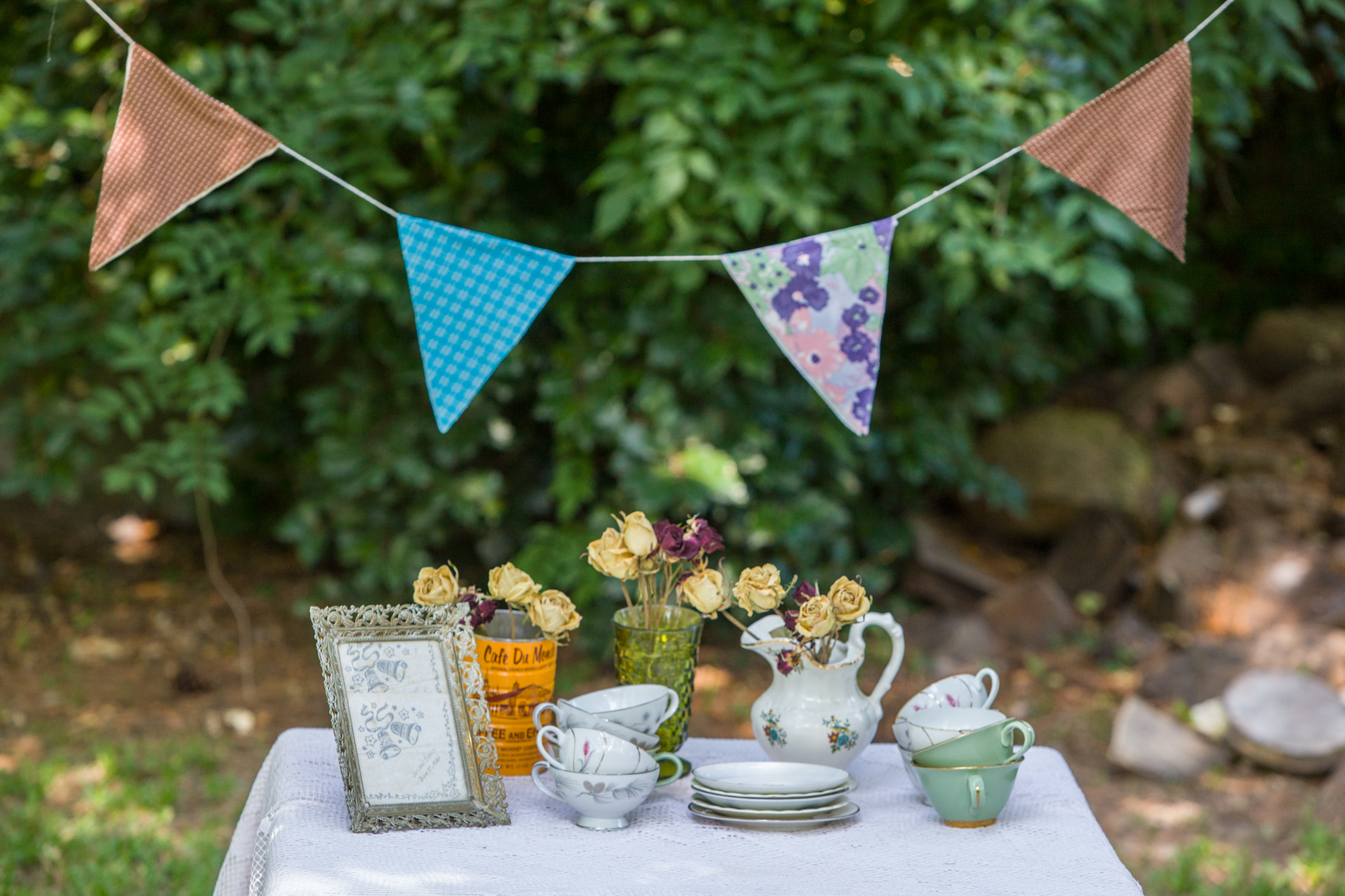 DIY Bunting One of my favorite decor pieces for any party is a pennant banner. Banners are like the universal sign for, "Good times are happening right here." Known also as bunting, especially in the U.K., colorful banners are not only joyous to look at, but they're also cool and easy projects to undertake yourself. And there are ways to make yours pretty meaningful, too. For this example, I used the nice parts of worn-out, torn dresses that belonged to my grandmother. After holding on to them for a while, I decided to brainstorm ways to bring the dresses' whimsical patterns and vibrant colors out of the box and celebrate them (and her) better. The perfect solution was to create a pennant banner that can be used for special occasions to come—from weddings and anniversaries to birthdays and baby showers. I also used an XXL brown and white polka dot skirt I found at Goodwill. The fabric was too adorable to pass up, and I decided to turn that large-scale garment into the project, too. Instructions:
For a template, cut out a triangle to your desired size and place it onto the uncut fabric. Using a Sharpie, carefully mark the triangle's points onto the fabric and then cut out the triangles. Cut enough triangles to use two at a time across the string of twine.
Using a hot glue gun, glue the shortest edge of a triangle along the twine and repeat this step with another triangle, placing it back to back with the first one.
Careful to use the same amount of space between each set, continue to glue the pieces onto the twine until you reach your desired length.
This is a great project for you, your bridesmaids, family and close friends. Have everyone bring a snack dish and maybe a bottle or two of wine, and let the crafty good times roll. Linens I never paid much attention to the linen section of the thrift store until I found myself sourcing some for a wedding. Funnily enough, beautiful vintage tablecloths began to seemingly find me once I decided to keep my eyes peeled for what the bride requested: vintage mismatched tablecloths. For this wedding, I found several white doily crocheted tablecloths: Perfect! Underneath, I used all kinds of linens—mostly white, but a lot of florals and colors, too. The result? Absolutely stunning.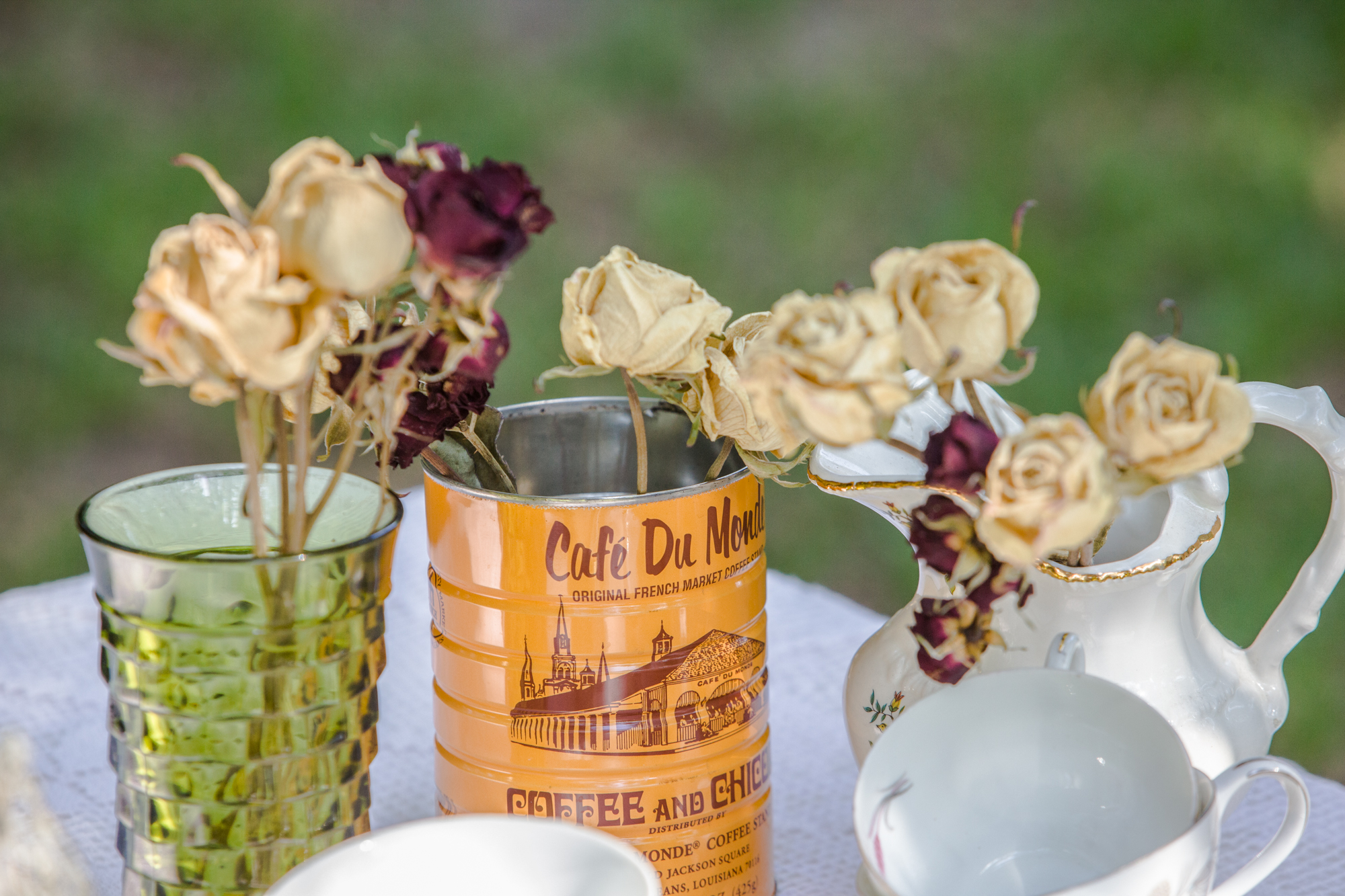 Mismatched Vases As for the centerpieces and such for the reception, you can go completely bonkers, creatively speaking. Ask your thrift-store savvy friends and family to be on the lookout for vintage glasses, interesting tin cans, and antique pitchers. Fill them with fresh or dried flowers. Use one per table or cluster a few "vases" together for your reception tables. Remember to collect a lot of candidates for vases, since they're great for using everywhere, from the coffee-and-tea station to the guest book table to the dining tables.
Nature Look to your natural surroundings for other tabletop decor ideas. I love this rustic pinecone juxtaposed with the softer tabletop decor. I live in the South, so magnolias are plentiful and perfect for adorning a wedding reception table. Dandelions placed inside thrifted miniature glasses and jars could add a dainty yet childlike touch, while thrift store teacups filled with pretty pebbles, succulents, flowers or seashells would make for a magical, Alice-in-Wonderland-style celebration. What kinds of mismatched Goodwill goods would you like to decorate with? Kelly Rae Smith writes about crafts and DIY projects for Shutterfly.com. The wedding planning ideas Kelly talks about in this article are inspired by many of the wedding planning options viewable at Shutterfly Online.