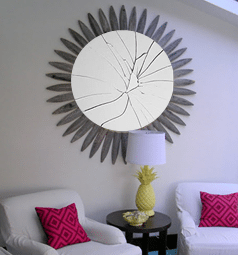 One of the great things about Goodwill is that you can find almost anything at their stores. Take some of those unique finds and transform them into something fun, creative, and eye-catching!
The other day I went to Goodwill and found a beautiful mirror with decorative, sun-like frame. Sadly, the mirror was cracked. Despite the flaw, I couldn't resist the mirror for the rock-bottom price, so I went for it!
Instead of deeming my broken mirror useless, I decided to repurpose it into a picture frame instead. If you are lucky enough to find something cool like this, you can try it out yourself. All you need is:
A decorative framed mirror or plate
A frame-worthy picture
Silicone glue
A pair of scissors
Take your picture and cut it into the shape and size of the mirror or plate you are using. Be careful when cutting the picture because it has to be the same exact size as the frame interior to avoid gaps. Use silicone glue to adhere the photo to the frame interior and voila! This is the final result of the project and I must say I am amazed at how well it turned out. You can't even tell it is not an actual picture frame!
Scarleth recommends Goodwill to anyone who likes undertaking creative DIY projects on a cheap budget. For more glass-inspired ideas, visit her at Glass and Mirror Pros, Facebook and Pinterest.