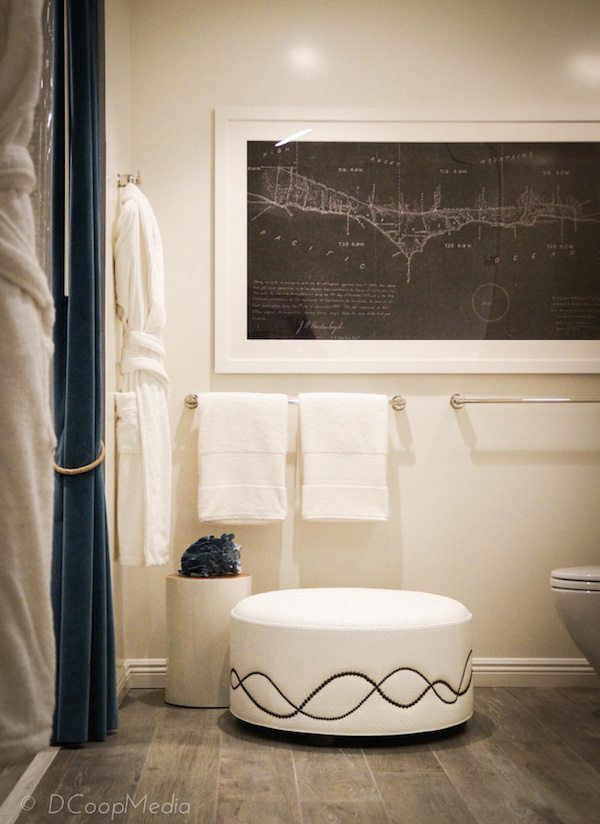 Image source: DCoopMedia – Coastal Living Showhouse
Giving your bathroom a full makeover doesn't have to cost a fortune. In fact, some of the easiest ways to breathe life into your bathroom involve small details that can make a big impact. Bathroom hardware such as towel bars and rings, robe hooks and toilet paper holders offer "jewelry" to your bathroom at a low cost. Whether your style is traditional or ultra-modern, look at these ways to give your bathroom a new feel with the addition of the right functional accent pieces. The look of luxury without the price tag
Image via: Susan Serra – Kohler Design Center
We'd all love to have a guest or master bathroom that exudes luxury, but the cost of purchasing high-end bathroom hardware can be daunting. Instead, look to finishes with an elegant appearance, such as brass, copper, nickel, and oil-rubbed bronze. These finishes help bring a luxurious aesthetic to your bathroom wall and look beautiful when paired with bath linens or holding your favorite bathrobe on a matching robe hook. Remember, bathroom hardware doesn't have to match perfectly! While at your local Goodwill store, look for similar finishes and styles to mix and match towel bars and bring an eclectic vibe to your bathroom. If you want your space to standout, consider painting your wall a contrasting color to create a focal point for the eye. You will be surprised how inexpensive color and hardware pieces can transform your bathroom wall. Coordinating Bathroom Accessories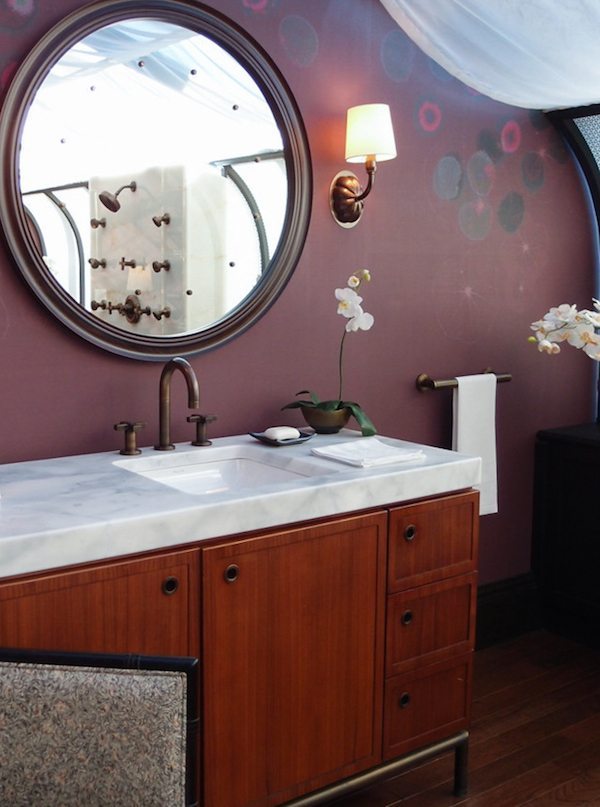 Image via: Susan Serra- Kohler Design Center
One of the best ways to make your bathroom look like an interior designer put it together is to find stylish pieces that complement each other. Look for rods, holders and even faucets that carry a similar design style to your cabinetry. A toilet paper holder that carries similar lines to your mirror can create a cohesive look. Mirrors, framed artwork, and even a flower vase can bring a luxe feel to your bathroom without having to custom order any accessories. Vanity additions such as a soap dish, lotion dispenser and drinking cup in a similar metallic finish will complete the look.
Image via: Susan Serra – Kohler Design Center
Transforming your bathroom doesn't have to cost a lot of money, and you don't have to follow specific "designer rules" to bring the luxury feel to your bathroom. Your bathroom hardware may seem like small details, but they can actually give your bathroom an instant makeover for a fraction of the cost of a luxury bathroom. Ronique Gibson is a home design lifestyle expert and associate architect who writes for Home Depot. Ronique's design tips range across the home's busiest rooms, from kitchen to family room to bathroom. For Home Depot's selection of bathroom accessories, including those Ronique discusses, you can visit the Home Depot website.