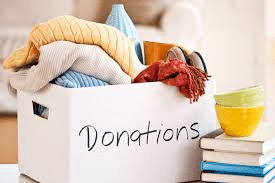 Why wait until spring to clean out the junk that's cluttering up your home? It's easier to let go of belongings when they're going to a good cause. Not only is donating a socially conscious and environmentally friendly way to de-clutter your home, but when you donate to Goodwill, you are also helping people get jobs and acquire much-needed necessities that may otherwise be out of reach.
From coffee mugs to computer equipment, chances are that you have more of these commonly stockpiled items to donate than you may realize.
Clothing: A lot of our closets have at least a few (if not far too many) items that we no longer wear or that no longer quite fit. Consider clearing through your closet and your children's closets and pruning through everything you no longer need, from coats and scarves, pants and skirts, shoes and boots, to formalwear that you've been photographed in a few too many times. If there aren't smaller children in the family to benefit from hand-me-downs, children's clothing could make a difference in a family's life. Make sure the clothing is clean before you drop it off at a donation site.
Toys: Have your kids outgrown some of their favorite toys? If your children have received toys as gifts that they never quite warmed to, or if you've received duplicates of popular toys from both sides of the family, consider clearing out space by donating these items as well. Think of the joy that these toys could bring to other children, not to mention the extra space in your home.
Computer Equipment & Electronics: If you've recently upgraded your computer or accessories, you may not be sure what to do with that old laptop or printer that still works, but no longer meets your needs. Computers equipment can take up a lot of space in your home, so consider donating computers, printers, mice, keyboards, and other peripherals. These items can be cost-prohibitive for many folks, so you could be making a real difference in someone's education or pursuit of employment. Goodwill has recycling programs for computer equipment that aim to reduce waste going to landfills as well. Functional cameras, TVs, VCRs and DVDs are also items that can find a second home.
Books: Whether or not you're an avid reader, chances are there are books taking up valuable space on your shelves — cookbooks, children's books, novels from previous book club meetings. Think of all the new books you'll make room for after you donating books you've either read or, realistically, just don't think you'll get around to reading. As you clear through your book shelves, ask yourself how long the book has been sitting there, and how likely you are to read it again (or ever).
Furniture: Who doesn't have an extra coffee table, desk chair, or bookcase that is taking up valuable room in the garage or in your filled-to-the-max storage unit? You'll be glad to have the extra space and it will feel good to give these furniture items a new beginning. Extra lamps can brighten up someone's home, too; just be sure to plug in lamps you're considering donating to make sure they still work.
Kitchenware: Have you gotten more mugs at holiday gift exchanges than you know what to do with? Find yourself with extra plates, bowls, and pots and pans that are making your cabinets hard to navigate? These items are a must-have for all homes; clear out your cabinets and drawers give your unneeded kitchen items (including utensils) a new start in someone else's kitchen. Working appliances are also a great thing to donate, particularly since they can take up a lot of space in your home.
Regardless of the season, doing a "spring cleaning" will help put a spring in your step, as well as the organizations and individuals that will benefit from your donations. Be sure to check the donation guidelines before you drop off your goods, and make sure everything is clean and functional.
What do you have taking up space in your basement or garage? What organizations in your community could benefit from your de-cluttering?
Jessica Johnson works for www.extraspace.com and contributes to the Extra Space Storage blog, exploring various aspects of organizing and storing possessions.