Heeeeeeeeere's Lily! (If you didn't get The Shining reference, I'm so sorry.) Anyways, it's me again – Lily, the intern – and I'm back for an encore! (If you missed my first blog series, Smart Shopping from a Savvy College Student, be sure to check it out here). Halloween is just a few short weeks away! To be completely honest, I almost didn't see it lurking around the corner, but never fear! I've been resurrected to shine a spotlight on some clever costume finds at your local Goodwill that won't cost you an arm and a leg (literally). 'Tis the season for skeletons and masks, werewolves and witches, along with everything kooky…look out everyone, we're about to get spooky!
Halloween is my favorite time of year, hands down. I've never been a huge fan of scary movies, but I've always been about scary costumes and decorations. With that being said, one of my favorite things to do is go to the Halloween pop-up stores that show up towards the end of September. You know the ones – they show up practically overnight in some big warehouse space that's usually vacant and transform the place into a haunted house of retail. I live for them. Every year I go to at least three. It's an adrenaline rush. But have you ever noticed the prices of those places? Like REALLY noticed? The nurse costume you were contemplating? $75. The blonde wig you were going to use to be Barbie? $25. L O L…not today. I decided to go on a hunt, a witch hunt if you will, to some local Goodwills to see what I could find for some classic Halloween costumes at a much lower price. Keep in mind, some of the smaller, more specific parts of the costumes are going to have to be purchased from different places – like Halloween makeup, nail polish, a hat – stuff like that, no biggie, it's still cheap.
Let's start with a classic costume: Dorothy from The Wizard of Oz. This checkered dress is $4.99, and the ruby slippers are $3.50. That's right – we're not in Kansas anymore. If you want to achieve an even more classic look, put a white t-shirt underneath the dress, add a little wicker basket (can also be found at Goodwill for like $2) and put a little stuffed dog in the basket to be Toto.
Want the costume to be a dynamic duo? Here's a costume that could be a second character from The Wizard of Oz: the scarecrow. Let's use our brains here… (haha it's funny). An easy flannel shirt for $3.75, jeans for $4.99 and booties for $4 is a simple start to this super cute costume. Add some scarecrow makeup (you can check that out on Pinterest), throw your hair in some ponytails and if you really want, add a straw hat. Boom we're done.
Looking for something a little more….hot? How about devilish? Perfect. We've got it. These brand new devil horns are $1.99 and the red dress is $4.99. Add some black tights with some flats and add one of those cute plastic pitchforks and you're sinful!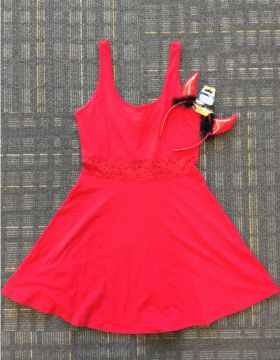 With these and tons of other finds at Goodwill for literally a quarter of the price, why pay so much money for a Halloween costume you'll wear once (maybe twice)? Take that money you saved and use it on Halloween candy, because why not? Or show up to Rich and Bennett's 17th Annual Halloween Par Crawl in Uptown for the Halloween costume contest. Let's see how the basic robber and rock star costumes hold up next to yours. P.S. the money you saved NOT spending $50+ at the pop-up stores can go towards those awesome ghoulish drink specials. BOO-YAH!!!