We were so thrilled to gather friends, community supporters, and our nonprofit and business partners together for our annual Cornerstone Celebration, presented by Wells Fargo, at The Westin Charlotte yesterday.
Here are the award winners:
Stephanie Johnson, Volunteer of the Year
Johnson has generously given of her time and talents over the past eight years, teaching financial literacy to students participating in our Banking & Customer Service Training program.
---
Lisa Small from BI-LO, Corporate Champion of the Year
---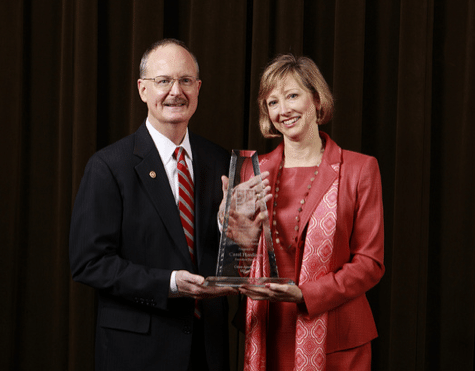 Carol Hardison, CEO of Crisis Assistance Ministry, Jack Callaghan Cornerstone Award (pictured with our President & CEO Michael Elder)

Hardison received our 2011 Jack Callaghan Cornerstone Award for her work at Crisis Assistance over the past decade, helping hundreds of thousands of men, women and children in Charlotte-Mecklenburg along the road to financial stability. She has played a key role in collaborating with partner organizations to strengthen aid programs in the Carolinas – including the development of the Critical Need Response Fund, the Workforce Initiative for Supportive Housing (W.I.S.H. Program), the Benefit Bank and many more.
---

Steven Struble,  Susan Byrdsong and Parris Friday were honored with Good Work! awards. Click their names to read their stories, and click here for more photos from the event.
Thank you to everyone who attended the event this year — we are so grateful for our community's amazing support!