By Kilby Watson, Community Engagement Manager at Goodwill Industries of the Southern Piedmont.
If you love outdoor spaces like I do, you may visit home improvement retail stores and always stop to look at their outdoor fountains. I do the same. Usually they are small, shallow or too big and too expensive for my budget. Inspired by seeing how others have used small pots like this to create a fountain, I decided to create one with large pots.
First, I began shopping for just the right sized pots. I liked choosing two different styles and putting one as the base of the fountain. Next, I needed paint to protect it and seal it. Below are the products that were recommended to me. I bought two of each.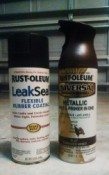 After washing the pots down and letting them dry thoroughly, I began to paint. First, I focused on the outside of each. Then I sealed the inside of the top pot with the Flexible Rubber Coating.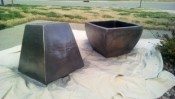 Once the pots are dry, it's time to put into place. I really wanted the focal point in our front yard, but this could have been just as easy to place in the back. Once adjusted to the right position and as level as possible, it's time to fill with water to test out whether the seal is complete. If not, it has to be emptied, allowed time to dry and be re-coated with the sealant until it doesn't leak.
If it works, choose the pump you like best that fits the pot and if desired – lights! I chose a fountain that could easily be adjusted for height and spray. I also wanted lights that could change colors.
This project is really easy and takes only about two days due to letting the paint dry. I completed it in one weekend and so could you! The fountain pump and lighting cords simply drape over the back and plug into our outside outlet. The best part is sitting on our bench and hearing the relaxing sounds of the water. We just put a few water plants inside the fountain as well to hide the cords. Check out your local Goodwill retail store for pots and create your own Zen space!